Dressed to kill or thrill?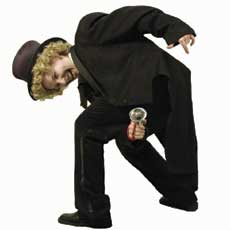 Tony Redell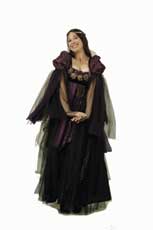 Tony Redell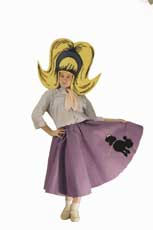 Tony Redell
For many children, the challenge of finding the perfect Halloween costume is an easy one.
For most college students, however, the task is much more difficult. Parents are no longer there to pay for or make the costumes.
Travis Rothe, freshman, is faced with this Halloween dilemma. "As a college student, you have to keep in mind available funds and what's accessible to you," Rothe said. "You don't have your mom to go around and do everything for you."
This doesn't seem to stop many NKU students from going to costume parties.
Freshman Sarah Christen said she is looking forward to her sister's Halloween bash.
"I love dressing up for Halloween. I get to be creative," Christen said.
Although Christen is not sure what she is going as yet, she said she's excited about the thought of getting a costume together.
"You get to pretend you're someone else for a night," Christen said.
Christen added she never buys or rents costumes. "I make my own, always," she said. "I usually go to a Halloween store and look around, and come up with something."
Money has never been an issue for Christen in her costume making process. She said she never spends much and doesn't see herself spending more than $10 for this year's costume.
Senior theatre majors Kaire Miller and Carly Fry have become pros at creating the perfect Halloween costume. Their philosophy reflects that of Christen's.
"I'm a big proponent of the homemade costume," Miller said. "Nobody ever has money for Halloween costumes, and there's no point in renting something that's not going to fit right, and is going to smell funny, and that 40 other people have worn."
"Or that everybody else will have," Fry added. "It won't be original."
According to Miller, even the most unimaginative people can muster up some decent Halloween costume ideas.
"My friend was me one year," Miller said. "He borrowed my clothes and wore a wig that looked like me. Just pick things you know, like dress up as your best friend, and that's a Halloween costume.
"As long as you're something else, other than yourself, then that's a Halloween costume," Miller added. "It doesn't have to be a full costume from head to toe."
If all else fails, Miller recommends just making something up.
"Take random creative ideas, like combine two animals, like, 'I'm going to be an eleotamus!' Nobody knows what that looks like, so you can be anything you want," Miller said. 'Make up a word and pretend that's what you are. (Just) have confidence in the thing you're trying to be."
Both Miller and Fry agreed that getting items from home, thrift stores or dollar stores is the best way to be cheap, yet still be creative.
"Home's the best bet, I think," Fry said. "It's amazing the things you can find in your kitchen or bedroom or living room or whatever, and all of a sudden you're like, 'Wow, that could be used for this!'"
If time is an issue, and money isn't, there's always the option of renting or buying a costume.
"There are five different rental houses in the area, and for an area this size, that's a lot of rental houses," said Aretta Baumgartner, a professor in the fine arts department.
There are a variety of costume rental business in the Tristate area.
Those include the Costume Gallery located in Newport, and the Cincinnati Costume Company.
Theatre House, located in Covington, is one of the most well-known rental houses in the area, Baumgartner said.
"It's a treasure in our own backyard. (The prices) are great," she said.
Even though she likes the idea of costume store Baumgartner said it's still good to be creative and invent your own costumes.
"I went as a shadow one year. I just followed people around real close and wore all black. I had nothing else to do. They were so annoyed; they hated it," Baumgartner said. "I'm really big on that stuff, stuff that you don't need stuff for."
Although Halloween is often looked upon as a day for little kids, Miller argues that that stereotype should be broadened. "I think that Halloween is the college student's holiday," she said.
Fry sees plenty of reasons why college students should celebrate the day as well.
"You get so stressed out in school (that) you just need time where you can cut back and be somebody else for a day," she said.
Baumgartner believes it is very important for students at NKU to express themselves on Halloween. "(Students) need to rediscover a sense of play," she said.
**Correction: Kathleen Anderson, Carly Fry, S. Kate Thompson are members of the Children's Theatre Tour Troupe, The Runabout Paste-Eaters. Their cosumes were provided by the Costume Gallery in Newpory, KY. www.costumegallerynewport.com**