The Guide to Graduation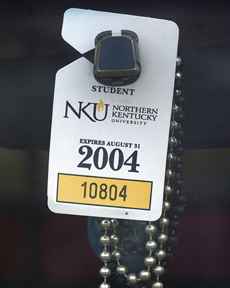 Tony Redell
Cap and gown Dec. 20 graduates may pick up cap and gowns at the NKU Bookstore through Dec. 19. Cost is $21 for associate's and bachelor's; $41 for master's.
Honors cords Any graduate with a current overall GPA of 3.5 or above and at least 64 credit hours at NKU is eligible to wear Honors cords at the December commencement ceremony. Check with your dean's office to find out if you are eligible to graduate with honors. Fall 2003 semester grades will be available Dec. 22 and will determine if honors will be listed on transcript and diploma.
Masters candidates Hoods must be purchased for presentation at the commencement ceremony. Masters candidates must bring the hood to the ceremony and give it to your college representative upon arrival at U.S. Bank Arena.
Diplomas Diplomas will be available to pick up at the Office of Alumni Affairs after Feb. 15, 2004. The office is located in the Mark R. Herrmann Center on the corner of Nunn Drive and U.S. 27, the NKU main entrance. If you are not able to pick up your diploma, call the Office of Alumni Affairs at (859) 572-5486 to arrange to have the diploma sent to you.
Pictures A professional photographer will be at the commencement ceremony taking pictures of all graduates as President James Votruba presents the diploma case and congratulations. The photography company will contact graduates when photos are available.
Address change Be sure to notify the Registrar's office of any address or other contact information changes as soon as possible. Exit interview If you have student loans, be sure to go online at www.nku.edu/ofa to complete an exit interview. Your account/diploma will be on hold until the exit interview is complete. Call the financial assistance department with questions at (859) 572-5144.
Parking reimbursement Students not returning for classes for Spring semester are eligible for a pro-rated reimbursement on parking. Students/graduates may return parking passes to the Bursar's office within the month of December to receive a $32 refund.
For questions or information contact Sandi Cunningham, assistant registrar, (859) 572-6428 or cunninghams@nku.edu. There is a link to commencement information on the NKU main page at www.nku.edu.