Strokes album 'Room on Fire' is pure retro pop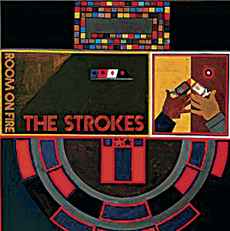 They might not be "The Saviors of Rock 'N' Roll" or "The Coolest Band Alive," as they are so often hailed, but the Strokes can do one thing well: make a really good record. Not dogged by the sophomore slump, "Room On Fire" shows a more mature, better recorded side of the Strokes.
After a brief stint with Radiohead producer Nigel Godrich, the Strokes returned to their first album's producer Gordon Raphael. With a steady producer locked in, the Strokes pumped out 11 tracks of pure retro pop.
According to "Rolling Stone", notoriously elegantly wasted lead singer Julian Casablancas even quit drinking for the project.
Unlike their first album, "Room on Fire" is not dogged with accusations that "all the songs sound alike."
Throughout the entire album, the listener is faced with interesting new hooks that sound different enough to be engaging, but similar enough to be warmly familiar. This time the Strokes have created an album that can be listened to, and sung along with, over and over again.
Singer Casablancas's vocals are characteristically distorted but this time you can make out his honest, sing-song lyrics. Intermittently following Casablancas's vocal melodies is Nick Valensi's riveting lead guitar. This engaging combination especially stands out on their darkly beautiful new single "12:51." In this catchy song, Valensi's guitar sounds strangely like a moog synthesizer as it dances along with Casablcas's angry crooning.
The best song on this album is "Under Control," which has the same components as the faster tracks, with catchy tremolo guitars and melodic bass, but at a much slower tempo.
In the same vein as Led Zeppelin's "D'yer Maker," "Under Control" has irresistible slow-but-driving drums, which, mixed with the song's beautiful melody and pounding guitars, makes for an instant pop masterpiece.
Other songs like, "Reptilia," showcase the Strokes' ability to rock without using the modern clich