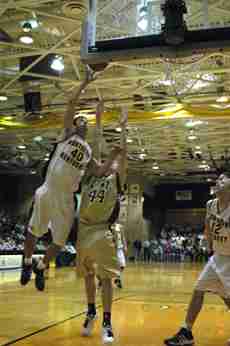 Tony Redell
KENOSHA, Wis. – Brian Lewin's layup with 27 seconds remaining in the game Saturday gave Northern Kentucky University an 80-79 victory over the University of Wisconsin-Parkside.
NKU (6-4 overall, 3-1 Great Lakes Valley Conference) rallied from a 15-point deficit with 14:52 remaining by making 8-of-13 three-point attempts in the second half.
With the Rangers leading 67-57, the Norse went on an 11-2 run to close the gap to one point. Adam Howell scored nine of his 14 second-half points during that run by making a trio of three-point baskets.
Glenn Barlow converted 1-of-2 free throw attempts to put the Rangers ahead 79-78 with just more than a minute remaining. After a missed shot by Jerome King, Lewin put in the game winning basket on an assist from Sean Rowland.
Wisconsin-Parkside had a chance to win in the closing seconds, but Dean Pogodzinski's jumper in the lane was off target and King got the rebound as time expired.
Mike Kelsey led the Norse with 22 points on 7-of-11 shooting and eight rebounds. Kelsey – the junior guard from Elder – converted four of his five three-point shots to lead NKU.
Jesse Rupe posted 12 points and Kevin Reinhardt added 11. Rowland added a game-high seven assists for NKU.
NKU head coach Ken Shields picked up his 296th career win with the victory over Wisconsin-Parkside and NKU improved to 15-4 in the all-time series against the Rangers. Wisconsin Parkside was led by Barlow who had 19 points and eight rebounds. The Rangers fell to 2-4, 0-3 in the GLVC.
The Norse return to Regents Hall for a game against Central State University at 7:45 p.m. on Dec. 10
In the women's game, Sharell Snardon scored 21 points and grabbed six rebounds as the Northern Kentucky University women's basketball team defeated the University of Wisconsin-Parkside, 77-66, in DeSimone Gymnasium.
NKU built a 20-9 lead early in the first half as Snardon scored nine points. Wisconsin-Parkside rallied and cut the lead to 28-27 with an 18-8 run, but the Norse responded with a 11-0 spurt to end the first half with a 39-27 advantage. Sarah Woods came off the bench to score six points.
Wisconsin-Parkside cut the lead to 61-56 with 5:31 remaining in the second half on a jumper by Carrie Weir. The Norse responded with a 14-1 run, in which they converted all 10 of their free-throw attempts. NKU also held the Rangers to a 37.7 field goal percentage for the contest.
"For the last 10 minutes of the game we really shot well from the free-throw line," said NKU head coach Nancy Winstel, "(Snardon) just dominated inside and (Myers) hit her free-throws and some key jumpers."
Wisconsin-Parkside was led in scoring by Carrie Weir who posted 20 points. Sammy Kromm also contributed 18 points and seven rebounds for the Rangers. It was the first lost in the conference for Wisconsin-Parkside, which now falls to 4-3, 2-1 in the Great Lakes Valley Conference.
Nikki Perkins added 14 points for NKU (4-3 overall, 2-2 GLVC), which snaps their two-game losing streak. The Norse shot 67.7 percent from the field – including 75 percent in the second half – and led the entire game.
Connie Myers scored 10 of her 12 points in the second half for the Norse, who upped their lead in the all-time series with Wisconsin-Parkside to 18-1. Jessica Brock added 11 points, and Elizabeth Burrows added six assists for NKU.
NKU will return home and resume play at 7:30 p.m. Dec. 12 against Kendall in the first round of the Community Recorder Classic in Regents Hall.
*Article by Sports Information