'Lucky Stiff' is fun, chaotic musical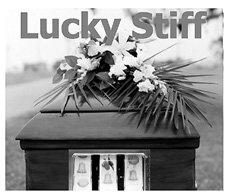 Imagine your everyday life being suddenly turned upside-down when you inherit $6 million from a relative you never met, as long as you take care of their last request.
Sounds easy, doesn't it?
You take care of this request, and suddenly you're rich. Life just got better, but in the musical comedy, "Lucky Stiff," when you get you to inherit that much money it only spells trouble.
The musical comedy, which premiered Dec. 4 in NKU's Corbett Theatre, is about lonely shoe salesman, Harry Witherspoon, who unexpectedly inherits $6 million from his uncle Anthony (who he has never met).
The only condition is, Harry must take care of his uncle's unusual request to take his corpse to Monte Carlo for a week of fun-filled activities that include fishing, skydiving, scuba diving and enjoying the company of a seductive dancer.
If all the requests are met by the end of the week, Harry will be $6 million richer.
As if taking a dead body to enjoy the sights of Monte Carlo wasn't enough, Harry must also contend with an eye doctor, Vinnie DiRuzzio, whose sister is the nearsighted lover of Anthony.
Rita LaPorta, who had killed Anthony after finding him with another woman, embezzles the $6 million (which Harry has) from her hitman husband, races to find Harry to get the money
To top that off Rita tells her husband that Vinnie has the money and soon the two are off to Monte Carlo to get the money or else Vinnie is going to lose his life.
As if that isn't enough, hard-working canine charity worker Annabel Glick follows every move Harry and corpse make to make sure Harry doesn't slip up or else, he warns, "the money will go to the dogs."
Chaos soon ensues with plenty of surprises and lots of laughs to see who can get the money first, while one lucky stiff enjoys Monte Carlo one last time.
Each scene had entertaining musical numbers from the entire cast, including, "Speaking French" and "Good Day to Be Alive."
"Him Them, It, Her" was choreographed perfectly with high-energy tunes.
The entire cast did a great job acting, singing and dancing but the highlight of the night was the interaction between Harry (played by Roderick Justice), Annabel (played by Kelly Strandemo) and the body of Tony Hendon (played by Toby Vinup).
The three made a great comedy trio, especially in the "Dog Versus You" number.
"Lucky Stiff" also kept the audience's attention with its hilarious storyline, which was full of plenty twist and turns.
During the play the audience is never sure what will happen next, and all that buildup will eventually leads to a shocking ending.
Overall, I would recommend anyone seeing this musical comedy. With exams quickly approaching, it's nice to take a break from studying for a few hours and enjoy a good laugh.
"Lucky Stiff" promises do that for you.
The musical comedy, which is based on the novel, "The Man Who Broke the Bank at Monte Carlo," by Michael Butterworth, will run through Dec. 14 (starting at 8 p.m., except Sunday, which starts at 3 p.m.) at Corbett Theatre.
Tickets are $6 for students and faculty and staff are $9, and can be purchased at the theatre box office, located in the Fine Arts Building.