Idle PCs may move into dorms
Hang on for a minute...we're trying to find some more stories you might like.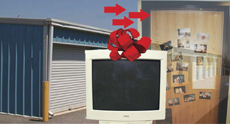 The Residential Hall Association is trying to put a computer into every dorm room on campus by the spring semester. RHA wants to lease approximately 200 unused computers from the university and install them in campus dormitory rooms for residents' use. The organization plans to rent the computers to students living in the Residential Village for an estimated fee of $30 per semester. "I think this program would really benefit residential students who do not have a computer," said RHA President Lindsay Hunter. "The computers aren't great – they're old and that's why the university is done with them. However, they would be perfect for typing a paper and checking e-mail, which is the main use of a computer to many students." Hunter said the project is currently in progress, although there are currently several roadblocks. RHA is working with the Information Technology (IT) department to procure a site license to install Microsoft Windows onto the computers. Hunter said the computers' hard drives also must be cleared in order to erase any confidential information that may still exist. She said this process will take anywhere from half-an-hour to one hour per computer, and RHA is trying to organize the effort. The organization plans to store the computers in and distribute them from its new office in Woodcrest Apartments. The computers were formerly used by the university, but were put in storage when they became outdated. The university has auctioned them off to the public in the past, but the Board of Regents ended the auctions when a computer that had confidential information on its hard drive was accidentally distributed to the public.