Hot seat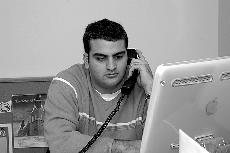 This week the tables are turned, as Northerner Executive Editor D.J. Carter puts Elias on the hot seat.
DJ: You are the all-time Northerner Trashketball Association leading scorer. Now, here at your retirement, what do you attribute to your success? EH: Hard work. Dedication. Countless hours of practice. I'd have to thank God for giving me the ability and my parents for having me.
DJ: If you could become any NKU athlete for a season, who would it be? EH: Men's Basketball player Sean Rowland, so I'd understand what it feels like not to be able to jump, run or shoot. Just kidding, Sean…
DJ: What female NKU athlete? EH: Former women's basketball player Michelle Cottrell because she is the best women's basketball player I've ever met. She knew how to take over a game and win in the clutch.
DJ: You took some heat for some of your, earlier, racier hot-seat columns. Why did you stick by your guns and stick with the column? EH: I lived for the positive feedback I got from students. I wanted to give students the opportunity to really meet the players.
DJ: What was your most memorable hotseat interview? EH: The interview with Chris Seabrooks in the Feb. 26 issue
DJ: If you could make one professional sports management decision what would it be? EH: Dismantle the New York Yankees. I'm sick of the high-payroll franchises buying all the good players and leaving all the low-payroll franchises with hardly any players to choose from.
DJ: You said you thought the Steelers would win the Super Bowl this year. How do you feel about that statement now? EH: I'll admit it; I was wrong. I can't always be right. Mark my words, this time next year, the Steelers will be atop the AFC North and heading into the playoffs with home-field advantage. This season was an aberration.
DJ: Who is the best sportswriter; who inspires you? EH: The late Dick Schaap. He was a great interviewer and writer. I also enjoy reading Rick Reilly in Sports Illustrated every week.
DJ: What's the best local high school sports team? EH: Elder football, the back-to-back Ohio state football champions.
DJ: What's the best Dave Matthew's Band song? EH: It's a tie between "Two Step #41," "Tripping Billies," "Pig," "I'll Back You Up" and "Crush"
DJ: What's the best thing you got from doing this column? EH: Getting to meet and know the best athletes at this school (in different sports).