Enzo's coffee: A cup of relaxation
Hang on for a minute...we're trying to find some more stories you might like.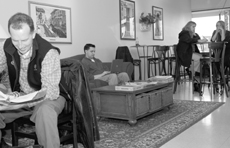 Tony Redell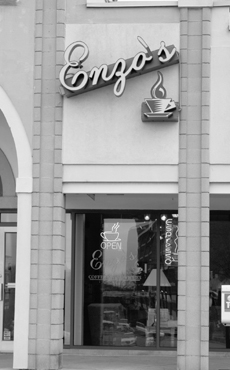 Tony Redell
"We can beat Starbucks any day," said Enzo's Coffee Shop owner Al Sheets. Enzo's is a new gourmet coffee shop that moved into the Highland Heights Shopping Center near Blockbuster and BW3. "We moved from MainStrasse in Covington because that place was dead," said Sheets. With their new location, this gourmet coffee shop hopes to cater more toward the college crowd. "We lowered our prices, especially on sandwiches, and we have free wireless Internet access," said Sheets. He said mostly Chase Law students come in to use the wireless Internet access, but he hopes to gather all types of students. He also has added a student information board for local events being held around the area. The interior is newly decorated and painted. The walls are adorned with antique coffee advertisements and all the furniture is new and in good shape. The most noticeable characteristic of this new hangout is its cleanliness. The bathrooms are immaculate and there aren't even any stains on the new furniture. The seating consists of a comfy couch, a few plush sitting chairs and several tall tables with high chairs. This kind of coffee shop is more suited to the "Reality Tuesday" go-ers than "the Buzz". The actual menu is very similar to Starbucks except Enzo's serves large sandwiches and its prices are a little cheaper. The owner also promises to have a new, state-of-the-art espresso/coffee machine that can make eight cups of coffee at once. "I am big on customer service and hate to see people wait," Sheets said. The coffee itself was good and the atmosphere was inviting. The lighting was very relaxing, and the overall decor was expensive without looking too ritzy. The shelves were covered in attractive ivy, and the artwork consisted mostly of reissued antique coffee advertisements and slogans. The condiments table had all the trappings of a Starbucks, like chocolate and cinnamon shakers. The coffee was well-made. I had an espresso and my friend had a hot chocolate. The hot chocolate was one of the best I have ever tasted; you can tell Enzo's uses fine ingredients. Overall, the atmosphere was very quiet and intimate. It is a good place for doing homework or taking a friend for a quiet night out. Sheets said he normally tries to book live entertainment once a month, usually on a Friday. In the past, Sheets said he has booked such famous acts as one of Eric Clapton's guitarists, who lives in the area. There are chess sets and magazines available for those looking for entertainment besides their coffee and food. The Fox 92.5 was playing in the background so the music is aimed at an older crowd. The service is very friendly and the store has a "Mom and Pop" feel to it. If you are looking for a Starbucks-like coffee shop without the corporate trappings or prices, this is the place for you.