'Elf' charming movie for the holidays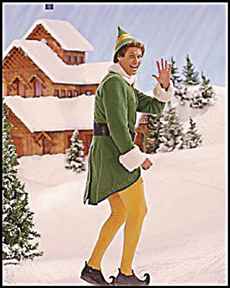 Hollywood.com
If there's one thing more certain than socks and underwear for Christmas, it's a holiday movie attempting to be funny without being too corny.
The first pick of this season's offerings in the Christmas comedy category is "Elf", starring Will Ferrell. And, unlike socks and underwear, this movie won't develop holes or an awkward smell.
For those familiar with Ferrell only from "Saturday Night Live" and the movie "Old School", most of his gags in "Elf" may be considered watered down. There's very little of that type of Ferrell's wildness and crazy humor in this character-driven comedy.
But don't be disappointed. What Ferrell does extremely well in this movie is create a persona that is both likeable and seriously quirky.
Ferrell plays Buddy, a human who was raised on the North Pole after crawling into Santa's toy bag as a baby. Buddy had a hard time fitting in with the other elves, but could never quite understand why.
His adoptive father, Papa Elf (played by Bob Newhart), decided it was time to have a little talk with Buddy and it was then that he learned he was not an elf.
Buddy also learned that he has a real family living in Manhattan. So, Buddy decides to venture out into the world to reunite with his family.
But there are serious problems.
Buddy's father, played by James Caan, is as miserly as Ebeneezer Scrooge himself. And, even worse, Buddy has to deal with a world where it seems that everyone has lost the true spirit of Christmas.
Ferrell's comical antics and the childlike innocence of the character Buddy create plenty of laughs as he tries to adapt to and change the busy world of Manhattan.
Finally, and just a bit predictably, Buddy manages to win over the heart of his father and spread holiday cheer to the whole city, thanks in part to a crash landing in Central Park by Santa.
This movie has a little bit of everything.
Director Jon Favreau has a keen eye for classic holiday movies and you'll recognize certain scenes in Elf from other films like "How the Grinch Stole Christmas" and the animated Rudolf movie.
The cast also features some impressive stars; the highlights include Ed Asner playing the rather high-strung Santa and Newhart's deadpan delivery as Papa Elf.
"Elf" is definitely a charming holiday film for all ages and all audiences. Although it is predictable at times and a little lighthearted, this film will make you a fan of Christmas again.