Cheer team aims high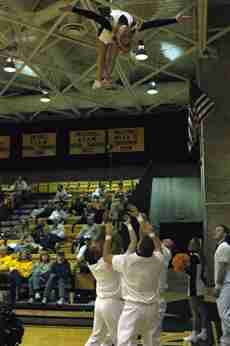 Tony Redell
Basketball season at NKU has begun, and it's time for Norse fans to pack the stands with painted faces and black and gold pompoms. Students, faculty and members of the community will all be out cheering the players towards a winning season.
But down on the sidelines, on the edge of all of the action, are the biggest Norse fans – the NKU cheerleaders.
They are divided into a coed and an all-girl squad and, just like the basketball teams, they have a demanding schedule that lasts nearly year-round, including camps, competitions and practices.
The season ends in early March and begins just a few weeks later, not giving much time off to the members.
The coed squad attends the Universal Cheerleading Association's (UCA) National Cheerleading Competition in January, but both squads support the basketball teams until March when March Madness is over.
"The all-girl squad has nationals which will be after March Madness ends," said Jaime Schaeffer, former NKU cheerleading coach who recently resigned when she learned she was expecting her first child.
The tryouts for the squad can be very rigorous. Once the squads are selected, they continue with open gym sessions three-to-four days a week throughout the summer and are expected to stay in top physical condition. In addition to these requirements, the coed squad attends a three-day UCA camp.
"The camp is a chance for them to showcase their skills, learn new techniques that are big this year, and just basically have a team-building weekend," Schaeffer said.
The cheerleaders support the men's and women's basketball teams through the entire season, which is a little more than 50 games.
At national competitions over recent years, the squads' performances have been, "an up-and-down battle," according to Becky Schroeder, former NKU cheerleader who became coach when Schaeffer resigned.
"Our goals for this year are to build up our ability level and keep it up," Schroeder said. "We need to maintain a strong, collegiate athletic level."
The squads spend their season preparing for nationals. Practices, open gyms, even the basketball games are used to prepare and master a winning routine.
"We want to put together a routine that we are not only proud of, but hopefully one that will win," said Kelli Stevens, a senior public relations major.