Survey says: 90 percent of freshmen like being at NKU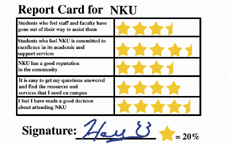 An online satisfaction survey given to incoming freshmen and transfer students this fall showed overwhelmingly positive results, according to the office of student affairs.
In the beginning of the fall 2003 semester, President James Votruba requested that a survey be given to freshman and transfer students.
Stephanie Baker, research analyst for student affairs, said Votruba wanted to understand what new students thought about Northern Kentucky University.
"Freshmen make the decision in the first four weeks of college to stay or go, according to a national study," Baker said.
Baker said that Votruba was delighted with results of the survey and that the university plans to use it in the future.
"We couldn't believe how positive the results were," Baker said, adding that students had many great things to say about their initial impression of the campus.
Five hundred ninety-three students answered the online survey, of which 416 respondents were female and 175 were male. Two respondents declined to give their gender.
"We liked doing the survey online because we felt that the answers were well thought-out, since students didn't have to hurry up and write out their responses," Baker said. She also said that she liked the online survey because the results were immediate.
One of the most encouraging results of the survey was that 90.2 percent of respondents said they had made a good decision to attend NKU. Similarly, 88.5 percent of respondents felt that NKU was committed to excellence in its academic and support services.
Another promising result was that 87.4 percent of students surveyed said they felt welcome on campus.
While the survey gave positive feedback, some results were a painful reminder of the continual struggle to involve students at NKU.
Only 50.4 percent of respondents said they would get involved in student organizations. Only 56.5 percent of respondents said that they knew how to get involved in clubs and organizations.