PRC offers atmosphere, gravy fries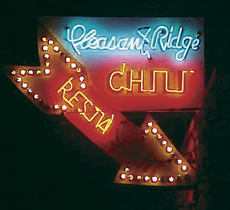 Angie Hull
Being a poor college student makes it hard to go out and have good meal most of the time. It's also hard to find somewhere to eat late at night, when it seems the only possibility is White Castle.
Now students can have a cheap, home-style meal at almost any time of the day
Located at 6082 Montgomery Road in Cincinnati, Pleasant Ridge Chili (PRC) is the perfect place to grab a bite to eat.
PRC is open from 9 a.m. until 4:30 a.m. Monday through Saturday, which means students can avoid the late night scramble for food and eat some good old fashion home cooking.
The restaurant's atmosphere is like a flashback from the 50s. Above all of the booths and tables are little canopies, the front counter is lowered, and by the door there is a jukebox.
Although the jukebox does not have all the latest songs, it does have all of the classics, such as 'Turn the Page" by Bob Seger.
Not only is the atmosphere amazing at PRC, but the menu is, as well. It's filled with breakfast, lunch and dinner meals that can be served at any time of the day.
On the menu, there are 20 kinds of breakfast foods, ranging anywhere from 70 cents for toast to $4.80 for an omelet. Also on the menu are seven dinner choices, seven different salads, 25 single sandwich choices, priced anywhere from $1.50 to $3.40, and 31 double sandwiches to choose from, ranging from $2.40 to $5.70.
Of course if those aren't enough options for you, PRC offers the choice of some Cincinnati chili with their 3-ways, 4-ways, 5-ways and cheese coneys.
PRC also offers different types of fries and chips, and three different soups, which are only $1.40 each.
For desert, PRC is always stocked with different types of homemade pies, such as cherry and apple.
Drinks are the standard, soft drinks, tea, coffee or hot chocolate.
Personally, I recommend trying the gravy cheese fries, which are made with homemade gravy, placed on top of fries and then topped with an enormous pile of cheese.
Gravy cheese fries are only $3.40 for a full order or $1.70 for a half order.
Although I'm not usually a fan of gravy I order the fries every time I go.
Carry out is available and an order can be called in ahead of time until 1 a.m.