Maintenance staff cuts hit home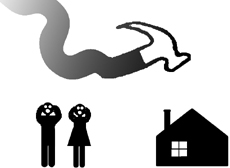 An increased workload for maintenance workers and a decrease in staff means students in Northern Kentucky University's Residential Village must wait longer for needed repairs.
University Suites, which opened in August, added 400 rooms, but the maintenance crew decreased from five to four personnel when one full-time maintenance worker left earlier this semester.
The maintenance staff now consists of two full-time employees and two part-time student workers.
Lindsay Hunter, Residential Housing Association president, said she is concerned about the increasing number of work orders compared with the decreased number of maintenance staff.
"The major problem is the lack of ability to get to everything," she said.
While many students in the Residential Village have good things to say about maintenance crew workers, they have also noticed an increasingly long wait for non-emergency work orders.
Matt Brown, director of university housing, said the department is trying to maximize the efficiency of its staff in light of state budget cuts and a financially uncertain future for the university.
"We are doing an experiment to determine what is the best overall process to maximize efficiency," he said.
"We analyzed the number of hours, number of employees, and the number of tasks each day."
Some students, however, feel that the experiment is not working.
John Rafp, a senior computer science and accounting major, said he put in a work order for his leaky toilet in September and it wasn't fixed until the first week in November.
"They told me it had something to do with a warranty, since this is a new building," said Rafp, who lives in University Suites.
"Our window does not shut properly without excessive force," said Phil Ulrich, a junior computer science/philosophy major. "We have put in a request to have it fixed twice, sometime in September."
Even though some students wait longer than usual to have their work orders filled, the students who were interviewed said they understand why they are waiting and hope that new staff will be hired soon to alleviate the problem.
Jenny Weddle, a junior speech communication major, said she has not bothered to put in a work order for her clogged sink because she knows maintenance doesn't have time to fix it.
Emily Lepping, a senior political science major, said maintenance supervisor Willie Davis has bent over backward to do repairs for her dorm room.
Lepping said her air conditioner had badly flooded her room when she ran into Davis at the end of his shift.
"Willie fixed my air conditioner, vacuumed my carpet and gave me a can of Lysol," Lepping said. "He didn't have to do that."
Maintenance work orders are divided into three categories: preventative maintenance, emergency and daily work orders. The preventative maintenance is done on time and the emergency work orders take priority. Daily work orders typically take a back seat to the emergency and preventative orders.
Hunter worries that the stress put on the small maintenance staff has strained the relationship between residents and the staff.
"If the staff does not feel comfortable, then the residents don't feel comfortable," she said.
Hunter said some of the housekeeping personnel are looked upon as mother figures to students.
"They have baked us cookies and everything," Hunter said, adding that she sees how hard the staff works every day, and sees a need to hire more personnel.
Housekeeping from the main campus has already begun working on weekends.
"I can see that the housekeeping staff is not happy about working weekends," Hunter said.
Brown said University Housing is considering requiring Residential Village maintenance staff to work seven days a week, as well.
"The crew will not have to work seven days, but we are thinking about a rotation to where crew members would work one Saturday per month," he said.
He said that he has discussed these changes with his staff and that having one or two weekdays off was attractive to some employees.
Residential advisor Jesse Rupe said that they are telling students to be patient and that they understand their frustration.
"If it were up to us, there would be maintenance staff available 24/7, but people have to understand that the staff is working the best they can with what they have," Rupe said.
Brown said that he plans to reevaluate the situation and make a decision about hiring as early as spring.