Lewin leads NKU to win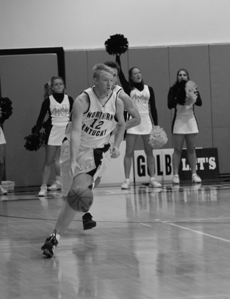 Sports Information
The men's basketball team matched the women by winning their Great Lakes Valley Conference opener against Missouri-St. Louis 88-85.
Freshman Brian Lewin was on fire, shooting nine-of-12 from the field and hitting five-of-six three-pointers.
Lewin finished with a game-high with 29 points and 8 rebounds.
"Today I had the hot hand," Lewin said.
The Norse were able to come away with the victory even though UMSL shot 46 percent from the field, including 11-of-22 from behind the three-point line.
The Norse looked good for most of the game, but had some trouble with Jonathan Griffin and Ronnie Banks of the Rivermen.
Griffin had a team-high 24 points and Banks had 19 points.
At the half the score was 42-36 in NKU's favor.
NKU grabbed its biggest lead of the night, with 9:07 remaining in the second half, when Steve Purdon converted on a three-point play to push the lead to 72-57. This sparked the UMSL comeback.
The Rivermen were able to outscore the Norse in the second half by a 49-46 margin, but the Norse still found a way to prevail.
With 4:24 left in the game the Rivermen attempted a comeback and brought the score to 79-78 but it wasn't enough to stop the Norse momentum.
Lewin converted a layup in the last minute of the game extending the Norse lead to 84-80 leading to the victory.
Junior Sean Rowland contributed six rebounds and nine assists.
Steve Purdon, Mike Kelsey and Pat Cary were also big in the win each scoring in double figures, with 16, 14 and 11 points respectively.
NKU shot 60.8 percent from the field on the night.
Head Coach Ken Shields was happy with the win,
"Brian Lewin came up very big for us," he said. "We hung in and won this one."
This win puts the Norse overall record at 4-3 and their GLVC record at 1-0. The Rivermen have never beaten NKU at Regents Hall.
With the victory Shields, who is in his 16th and final season at the helm, needs just six more victories to acheive 300 career wins.
If he does so, he will be one of 37 coaches to reach the mark in the history of NCAA Division II coaching.
NKU was outrebounded and had more turnovers than UMSL however the game ended in favor of the Norse.
After meeting up with Quincy on Monday evening, NKU travels next week to play conference foes Lewis and Wisconsin-Parkside.