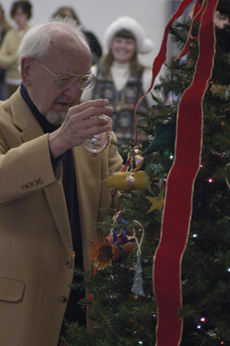 Tony Redell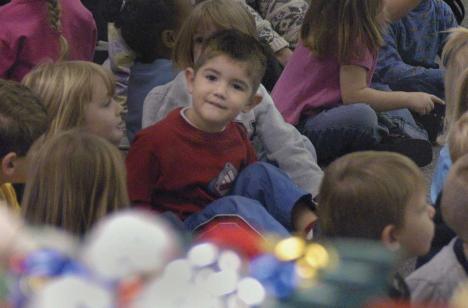 Tony Redell
Tony Redell
Children from the Child Development Center caused quite a stir in Steely Library Nov. 14, but no one on the library staff tried to quiet them.
A group of campus members stood smiling around the 3-4 year-olds as the children marked the start of the holiday season by singing "Jingle Bells" and "Over the River" at the sixth annual Christmas Tree Lighting in the library last Friday morning.
"(The event) gives the kids a chance to practice singing," said Cheryl Edelen, library specialist and one of the event planners.
Singing is only one part of the event, though. The event kicks off the holiday season, a time to step back from the hustle and bustle of everyday life to enjoy time of contemplation and renewal, said Arne Almquist, associate provost for library services for Northern Kentucky University.
"It is a time to contemplate the accomplishments of the past year, we give thanks, we look forward to renewal for the next year," Almquist said.
Dr. Jerry Warner, vice president for academic affairs and provost, hung the first ornament on the lit tree, followed by Dr. W. Frank Steely, namesake of the library.
The children from the CDC each hung an ornament that they made themselves. Edelen said the children make ornaments each year to hang on the tree, but they take them home before leaving for the holiday break.
The other ornaments adorning the tree are from a variety of campus organizations. "(They are) a representation of all the different departments on campus," Edelen said.
Some of the decorations include garland with soccer balls, footballs and baseballs from Campus Recreation, a whistle dressed up with ribbon representing the Department of Public Safety and a gold musical note donated by the music department. All campus organizations are encouraged to add an ornament to the tree.
Edelen said the library staff begins planning the holiday event in August by deciding on a theme. Previous years' themes have included snowmen and angels. This year a cabinet at the front of Steely celebrates Hanukkah, Christmas and Kwanzaa with symbolic items for each holiday and information. The tree and decorated case will remain until right before Christmas.