Ex-provost hanging up ref whistle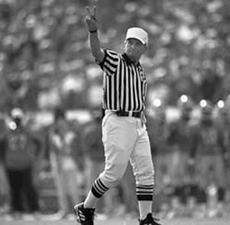 Contributed by Rogers Redding
On Saturdays Rogers Redding, former vice president for academic affairs and provost at NKU, exchanges his suit and tie for a black and white striped shirt.
Redding has spent his weekends for the past 16 years refereeing NCAA Division I-A football games, but this year he will hang up the stripes and try to find time to be a fan instead of an official.
"People think this job is a seasonal thing," said Redding. "But, with everything I do during the offseason, it really is a year-round job."
Redding spends the first four days of the week working as vice chancellor of academic affairs at the University of Colorado at Colorado Springs before taking off on Friday to work for the Southeastern Conference.
He referees games featuring teams such as the University of Florida, Louisiana State University, University of Tennessee and the University of Georgia. He can be seen on national television almost weekly and has to do his job in front of at least 50,000 screaming fans every time out.
"I started 30 years ago, after a couple of my friends got me interested in it," said Redding. "I had to start by refereeing Pee-wee and junior high football games in Texas, and it just kind of grew from there."
Redding got his start in college football, officiating in the now-defunct Southwest Conference. After moving to work at NKU 10 years ago, he began refereeing for the Southeastern Conference. He is regarded highly enough by his peers that he has worked three National Championship games – the 1991 Orange Bowl, the 1998 Rose Bowl and the 1993 Orange Bowl.
"The Orange Bowl between Miami and Alabama in 1993 was probably my most memorable game," said Redding. "It was the first year the bowl alliance was formed, with the No. 1 and 2-ranked teams in the nation playing each other."
The chance to visit such stadiums as Georgia's Nailon Stadium and LSU's Tiger Stadium are just some of the benefits for Redding in his job.
"Those are really special places to visit," said Redding.
Redding is also well-known for writing many different referee study guides and conducting workshops and clinics throughout the offseason – all of which help contribute to his reputation as a referee.