Zinser scores three in win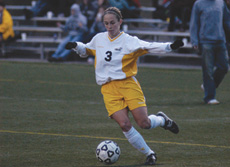 Contributed media
ALLENDALE, Mich. – Given the NCAA Tournament history of the Northern Kentucky University women's soccer program, is anyone really surprised by this outcome?
The fact that third-seeded NKU posted a 4-3 win over top-seeded Grand Valley State University on Sunday in the NCAA Division II Great Lakes Region championship match probably will not shock anyone. The victory gave NKU its fifth straight regional title, and the Norse advance to meet the University of Nebraska at Omaha in next Saturday's NCAA Division II national quarterfinals at Omaha, Neb.
But few would have expected the defensive-oriented Norse to score four times against a Grand Valley State team that earlier this season posted a 1-0 victory against NKU in Wilder, Ky. In that contest, the Lakers held the Norse to just four shots in the second half and won with a late goal.
"Our team is much more focused and determined than earlier in the season, and these players have improved dramatically," Sheehan said after his team upped its record to 17-2-4. "Grand Valley State is a terrific soccer team with a number of talented players, and we were excited to have the chance to play them again.
"We started off very strong in this game, and Kendra Zinser was outstanding," Sheehan said.
Zinser, a senior and a graduate of Mercy High School in Cincinnati, tied a career high with three goals Sunday. She netted two goals in the first 22 minutes to give NKU a 2-0 lead.
"Without a doubt, Kendra had the best game of her career," Sheehan said. "She scored three goals, but she nearly had two more scores, and she played as well as I have ever seen her play."
Zinser's third goal – which was assisted off a corner kick by Amy Martini – gave the Norse a 3-1 lead early in the second half. Grand Valley State (17-2-2) cut the lead to 3-2 on Shannon Carrier's score at the 60:11 mark, but Martini converted a penalty kick five minutes later to extend NKU's advantage to 4-2.
Carrier scored her second goal of the match one minute later to make it 4-3, but NKU was able to hold off the Lakers, securing the win.
"Our team played exceptionally well, and they had to do that to beat a great team like Grand Valley State," Sheehan said. "I can't say enough about this team, and the way they have improved since we began practice back in the summer."
NKU will face a familiar opponent next Saturday in Nebraska at Omaha (16-3-2). The Mavericks eliminated NKU from last year's NCAA Tournament, in a tightly contested 1-0 match.
– Article by Sports Information