USI upsets Norse in tourney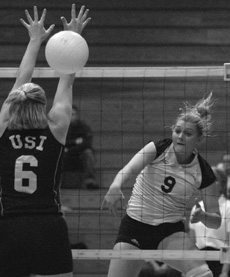 Contributed media
The Great Lakes Valley Conference volleyball tournament ended surprisingly for NKU in the semifinal round when the University of Southern Indiana upset the Norse winning three out of five sets. NKU was the No. 1 seed and the University of Southern Indiana was the No. 5 seed.
NKU won the first two games in usual fashion, outscoring the Eagles 30-15 the first set and 30-24 in the second game. The Norse appeared confident going into the third game but something changed as the Eagles gained momentum. Laura Ellerbusch and Leanne Gross of Southern Indiana seemed to catch fire, leading the way recording 15 kills a piece in the match. Once the Eagles took the lead in the third set, NKU was unable to come back, dropping the game 30-23.
The fourth game was like the third despite Kristin Koralewski and Cammi Welter each having six kills. The Norse had a total of 14 errors in the set. After Welter had two kills in a row, helping to cut the lead to 19-18 it looked like the Norse would make a comeback but it just wasn't enough to stop the Eagle momentum. The set ended in the USI's favor 30-27, evening the match at two games a piece.
Ellerbusch, Ashley Riordan and Natalie Atzinger of Southern Indiana led the attack in the fifth and deciding game helping the Eagles jump out to a quick 5-0 lead. The lead would eventually be stretched to 9-2, before NKU was able to make a comeback. The Norse fought back to even the score at 9-9 however they were unable to get over the hump, as Southern Indiana took the game and the match with a 15-10 fifth game victory.
Senior Nicole Salisbury was almost unable to comment on the game due to the emotional loss.
"We worked really hard to get where we are and the way we played today is not what it takes to compete on a national level," Salisbury said.
Junior Amber Timmons said that the Eagles just wanted it more in the fourth set and that NKU just couldn't stop the Eagle's slide in the fifth set.
Cammi Welter had 21 kills and Kristin Koralewski had 19 kills for the match. NKU's record is now 24-11. Even with the loss, the Norse received an invitation to the NCAA tournament, where they will take on the University of Findlay, tomorrow at 7:30 p.m. in Marquette, Mich.
It is the seventh time that NKU has received a birth into the NCAA Division II tournament. With a win the Norse should meet Northern Michigan (26-0) in round two.