APB creates organization liaison reps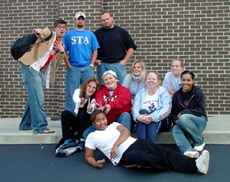 Contributed media
Taking full advantage of campus life may be difficult for many students at Northern Kentucky University.
Since many NKU students are commuters, they may not always be on campus to participate in events.
But NKU's Activities Programming Board is making some changes with the hope of increasing student involvement in campus activities.
The APB is made up of nine directors, 30 student members, an advisor and a new group of students that serve as organization liaison representatives.
These students represent other student groups on campus that want their organization to be involved in campus activities.
"The liaison representatives give us a better understanding of what the entire student body wants," said APB advisor Stephanie McGoldrick.
"It is an opportunity for all student voices to be heard. When we all come together, that is when we have the best programming."
The organization liaison representatives are also general members of the APB and serve on different event committees.
"By sitting on the committees, they are giving their organization an opportunity to have a voice," said McGoldrick.
According to McGoldrick, the APB hopes to add more diversity to the activities on campus.
They also want to have more events that will be available to commuter students who are not always on campus in the evenings, such as holding events during the day or between classes.
Abby Plageman, freshman, is a liaison representative for the Norse Dance Team. "Being a liaison rep makes sure that the dance team stays involved with campus events. I think that is extremely helpful to have the organization representatives because it ensures each group involvement with what activities are happening on campus," she said.
Dee Begley, senior, is a liaison representative for Phi Beta Lambda.
"We have a very fun group with a lot of different backgrounds, interests, and ideas to bring to NKU. I think the benefit to both of my organizations is the sharing of ideas and aide offered support to the areas that will ultimately affect the students at NKU," she said.
The APB holds many different events throughout the semester.
To view the campus calendar, visit www.nku.edu/~apb/cal.htm.