Students seek Segway sales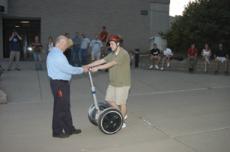 Ryan Smith
A Segway Human Transporter might be able to balance and propel itself, but it can't sell itself.
Students in Northern Kentucky University entrepreneurial marketing and market research classes are obtaining first-hand job experience by compiling a marketing plan for the personal transporter.
"We have young, talented people who would like to take it (Segway) on as a client," said Dr. Aron Levin, marketing professor.
The project is a collaborative effort between two entrepreneurial marketing and advanced market research classes.
The entrepreneurial marketing class is composing a marketing plan for the Segway, and the advanced market research class is designing a research plan to determine on what area campuses the marketing plan would be most successful.
The project began when Bill Cunningham, adjunct professor of entrepreneurship, contacted Segway inventor (and old college friend) Dean Kamen about the possibility of composing a marketing plan targeting students.
"This embodies our innovative strategy to the school," Cunningham said.
Levin, director of the Market Research Program Partner Program, which gives students opportunities in "real-world" market research, offered the services of his advanced market research class for the project.
The entrepreneurial class is now examining relationships between tuition, demographics and income to determine how to market the Segway to the college community.
Cunningham said students are also looking at who can use the Segway on college campuses – including students, campus security and physical plant staff.
The class is divided into three different groups to examine Ohio, Kentucky and Indiana universities.
Senior marketing major Megan Gordon, who is in the entrepreneurial class, said she finds the project exciting.
"It's reality, and it's a chance to connect the university with the business world," she said. "It's interesting that a company that has never had a market plan is letting us market it to a college campus."
"Our first goal is to figure out how to get the college market Segway-friendly," she added.
Gordon's group is assembling a resource guide for Ohio colleges, which includes a list of advantages and disadvantages of being a Segway-friendly campus.
The market research class has formed two groups to design a research plan.
Both groups are designing questionnaires and analyzing who is most interested in purchasing the Segway.
"Were not trying to sell it," said senior marketing major John Fout. "Were seeing who we can sell it to."
One group is taking their "Would you scoot yourself around campus on a Segway?" survey to NKU, the University of Cincinnati, the University of Kentucky, Miami University and Xavier University to get as much information as they can about the product.
They would like to gain more insight from more traditional campuses.
"We're going to UC and UK because the Segway is a better fit there," said senior marketing major Hannah Barnett.
The survey asks questions, such as how likely a person would be to purchase the Segway, how much they would spend on one, if they would feel safe riding a Segway on campus and if they were even familiar with the Segway before taking the survey.
The research findings will then be presented to Cunningham.
Cunningham hopes the students will get real-life experience by contributing to this project, but he also wants them to have fun.
"It's a great magnitude for innovation," he said.
"It gets people excited, and it's fun for the class," Cunningham added.