Hot seat
Elias Hajjar
November 11, 2003
Filed under News
Hang on for a minute...we're trying to find some more stories you might like.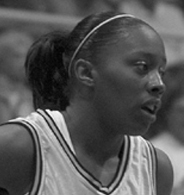 Contributed Media
This Week Elias, sits down with women's basketball player, Sharell Snardon
Elias Hajjar: What team are you looking forward to playing the most this season? Sharell Snardon: Indianapolis, because one of their girls [Amy Wisser] knocked my teeth out.
EH: If you could be any athlete for one day who would it be and on what day? SS: Shaquille O'Neal, because he dominates in the paint. He's big! Nobody can hold him in the paint. He's the best. EH: If you played the University of Cincinnati or Xavier University's Women's basketball team, could NKU pull off an upset and win? SS: Yes, NKU has a lot of heart and coach Winstel is a great coach. I just feel like we can beat them. We played them in the open gym this summer, and we got a few games out of them and I think we can definitely upset them. EH: Could the women's team beat the men's team in a scrimmage? SS: Yes, of course, just because we work hard.
EH: Out of all the newcomers on the team, who do you think has the most potential to have a breakout season? SS: I think all of them are tough! All the girls that are newcomers this year are really tough and can easily have a breakout season. They seem to be clinging well with the team from last year and I think that all of our newcomers can have a good year.
EH: Fact or Fiction: The Lady Norse will make it back to the National Championship game? SS: Fact, fact. I believe in our team and I think that if we work hard in practice and games I think we can upset a lot of teams like we did last year. People underestimated us last year and we came and won, and did what we had to do to get to the national championship. I think we can get back there.
EH: Fact or Fiction: The Lady Norse will win the National Championship? SS: Fact.
EH: Fact or Fiction: The Lady Norse will win the GLVC and the GLVC Tournament? SS: Fact. With a lot of hard work we can get a lot accomplished. EH: Fact or Fiction: The men's team will have a better record than the women's team at the end of the regular season? SS: Fiction. I really don't know why. I wish the men well, and I think we'll have a good year and I think the men will have a good year.