Florida trip yields win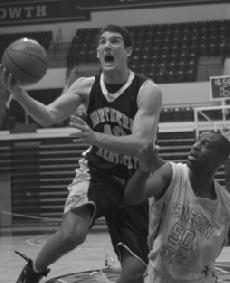 Joe Ruh
LAKE BUENA VISTA, Fla. – Mike Kelsey scored 19 points Friday night as Northern Kentucky University opened the season with a 78-65 win over Kennesaw (Ga.) State University at the Disney Division II Tip-Off Classic.
Kelsey, made four three-pointers as NKU finished 12-of-23 from beyond the arc. NKU's Steve Purdon finished with 16 points and also connected on four three-point shots.
NKU built a 37-27 halftime lead by shooting 50 percent from the field. The Norse led by as many as 19 points in the second half and coasted to the victory.
"It was a nice way to open our season, and we have a great three-point shooting team," NKU head coach Ken Shields said. "We came out strong, and Steve Purdon's shooting really set the tone early in the game."
Purdon made a pair of three-pointers to open the game and give NKU a 6-2 lead. Kelsey added another three-pointer to extend the advantage to 9-2, and the Norse led the entire game.
Adam Howell came off the bench and added 10 points for NKU. Terrence Hill led Kennesaw State, which is ranked No. 22 in the Division II poll, with 19 points.
Kevin Reinhardt finished with nine points for NKU. Sean Rowland added six points and seven assists for the Norse.
In Saturday's game, Tayron Thomas scored 20 of his game-high 30 points in the second half, making a pair of key free throws in the final minute as Philadelphia (Pa.) University posted an 81-78 win over the Norse.
After Mike Kelsey finished off a conventional three-point play with 58 seconds remaining to cut Philadelphia's lead to 77-76, Thomas was fouled and converted a pair of free throws to give the Rams a 79-76 advantage. NKU's Jesse Rupe made a short jumper with 16 seconds left to cut the deficit to 79-78, and the Norse immediately fouled Brent Welton with 14.5 seconds on the clock.
Welton hit one of two free throws to extend Philadelphia's lead to 80-78. NKU's Steve Purdon missed a jumper with two seconds left, and the Rams' Jim McMahon grabbed the rebound and was fouled.
McMahon made one of two free throws to give Philadelphia an 81-78 lead with 1.4 seconds left. NKU had a final shot, but Kelsey's three-point attempt was partially blocked and Philadelphia (1-1) escaped with the victory.
"Philadelphia really shot the ball well, and they made a number of tough shots," NKU head coach Ken Shields said.
"The most important statistic in basketball is shooting percentage, and they made 53.8 percent of their shots. That's exactly why they won this game."
Article by Sports Information