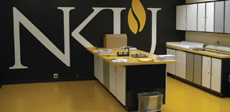 Tony Redell
As the amount of student involvement continues to grow at Northern Kentucky University, one of the more pressing needs on campus is added space for these organizations to gather and operate.
The vacant space available next to the Office of Student Life in the University Center has proved to be the perfect remedy for the problem. The university has transformed the space, left vacant after Delta Airlines closed their campus call center, into a new student involvement center for student organizations on campus.
Assistant Director of Student Life Tiffany Bellafant said the space is an asset for all student life organizations.
"The space can be used for all students involved in student organizations," she said. "It can be used for organizations to work on certain things, or just to hang out."
The space was remodeled to service the needs of the student organizations. New carpet and furniture was put in, a new conference room was built and a wall was knocked down, connecting the involvement center to the Office of Student Life. The room is set up as a lounge, with tables, chairs, couches and computers for use by the students.
"This was a huge need for our student organizations," said Bellafant.
Although the center officially opened last Wednesday, a grand opening event is scheduled, for Wednesday, Nov. 12.
This event will officially introduce the student organizations to the cente.