Postseason play starts with victory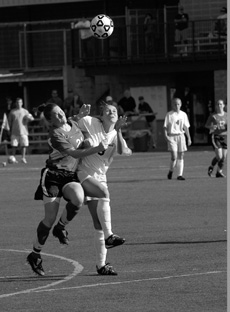 Tim Downer
The women's soccer team shut out University of Southern Illinois at Edwardsville 3-0 Sunday at the Town and Country sports complex in Wilder.
This win was the opening match for the Lady Norse in the 2003 Great Lakes Valley Conference Tournament. The win secured NKU home field advantage for the rest of the tournament.
Freshman, Amy Law got the scoring started, on a give and go from Senior Kendra Zinser, as Law hit the corner of the net to give NKU a 1-0 lead. Law's goal, sparked the Norses' offensive attack against the Cougars.
"Having the first goal really set the tone for the game and really gave us some confidence," said Law.
Although SIUE is the number eight seed in the tournament, NKU coach Bob Sheehan thought of the team as a very formidable opponent.
"Early in the season SIUE was ranked 9th in the country," said Sheehan. "This match wasn't what you would expect out of a number eight seed."
The lady Norse kept SIUE goalie Kristin Covalt on her toes for most of the game as they ran many technical plays wearing down the Cougar defense. Two more goals were scored in the 83rd and the 88th minutes of the match that sealed the deal between the two teams.
The second goal was scored by sophomore Laurel Chalk and the third goal was scored by freshman Sam Riley and was assisted by freshman Shirley Ernst.
Sheehan attributes his team's success to a lot of hard work and cooperation.
"We just try. We don't really have superstars on the team. Every one just works really, really hard," said Sheehan.
This win puts NKU's overall record to 15-2-2 for the season. The Lady Norse have never lost the GLVC tournament.
NKU will face off against Missouri-St. Louis on Friday, Nov. 7 at 4 p.m. Missouri-St. Louis is currently 13-5-1 and is the No. 4 seed.