'Dress' not same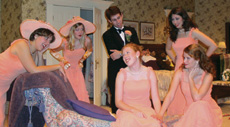 Susan Neltner
Weddings are happy times, where everyone shares in love, happiness and laughter. "Five Women Wearing the Same Dress," might be about a wedding, but it's more about cynicism, bitterness and more genuine laughter than people experience at actual weddings.
Northern Kentucky University's department of dance and theatre brought this feeling to stage for the first time on Oct. 30 in the Black Box Theatre.
The play begins in an upstairs bedroom in Knoxville, Tenn., where five women are hiding from a wedding that is taking place downstairs.
Each of the five women is one of the bridesmaids for the wedding and each has a story. One is the bride's younger sister, another a Christian, a wisecracking lesbian, a jilted woman and a jaded beauty. Although each is very different from the others, they do have one thing in common, they don't like the bride.
Alan Ball, creator of American Beauty and Six Feet Under, is also the creator of this wonderfully hilarious comedy.
From the moment the lights went dim and Frances, played by Tracy Weiler, walks into the room, the audience is thrown into fits of laughter.
This is a play in which its characters are not afraid to cut loose and say whatever they feel. Part of the thrill of the play is the continuous shock factor, in which you never know what the characters may do or say next.
While watching the play, remember to pay attention to all of the characters and not just what is going on in the center of the stage. Many times throughout the play I found myself laughing at the characters in the back of the setting as well as their expressions.
Be prepared there is a dark twist to the play, however it is not the end of laughter for the audience.
I recommend seeing this play and letting the cast, Tracy Weiler, Amy Schwegmann, Rachel Rogers, Karie Miller, S. Kate Thompson, and Greg Hillner, know just how wonderful their performances were.
NKU's Black Box Theatre will be running "Five Women Wearing the Same Dress" through Nov. 9. Student tickets are $6 and faculty and staff are $9. For more information contact the Theatre Box Office at (859)572-5464 or bye email at boxoffice@nku.edu.