Volunteers build habitat with humanity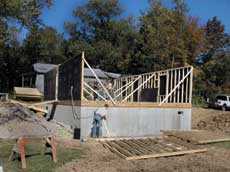 Contributed Media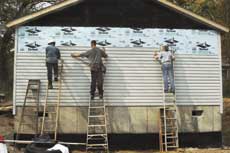 Tony Redell
Nancy Daugherty and her daughter, Marina, will have a brand-new roof over their heads this winter thanks to the combined efforts of Habitat for Humanity, Delta Airlines, Ashland Oil Inc. and Northern Kentucky University.
NKU has partnered with the companies to build a house for the Daughertys over six weeks this fall. The project began Oct. 10 and will tentatively be finished the end of November or beginning of December.
"This is our first major project like this," said Paul Cooper, project coordinator and professor of construction management at NKU.
The Construction Technology Association (CTA), composed of NKU students, is managing the project in a collaborative effort with the companies. NKU students, faculty and staff, with volunteers from Delta Airlines, organized and carried out the construction of the house.
"We've done nearly everything that's been done on this house," Cooper said. "We're happy we have the opportunity, and I think it's given our students a lot of great work experience."
"It's been a really fun project because our students are the ones in charge," said construction management professor Sean Foley. "We've been kind of labor for our students – they tell us where they want us to work. I think it gives them the experience to be the managers."
Habitat for Humanity provided the land for the house, Delta Airlines and Ashland Oil financed the $40,000 project, and NKU provided on-site construction.
"They put up approximately $40,000, and they contacted NKU and wanted NKU to become a third partner in this," Cooper said.
"We couldn't provide financial support, but because we have a construction management program, they asked us to be the construction on-site managers."
Foley said Delta's funding came from recycling proceeds.
"They collected all the aluminum cans off of the airplanes," he said, "and that's how they came up with their $20,000."
According to Andy Wilson, director of corporate and foundation relations, the project has been a year in the making.
"We were all for it, it just spent a year in development," he said. "Habitat had to find the right family and they had to find the right location for that family. It's taken a long time."
Wilson said when Delta and Ashland contacted his department and proposed the project, involving the construction management department "seemed like a natural fit."
"When we looked at how you put together this program, you have to have somebody out there at the site…to make sure that whatever work needs to be done that day will get done. So that's where construction management came in," he said.
"Several of those students have stepped up to the plate and are taking on a major role in (the project)," he said. "The bulk of the manpower is our students, wanting to help out this family."
The student volunteers will complete most aspects of the construction process themselves.
"They will do absolutely everything," Foley said, "but there's a few things that require a license for the actual final hookups. We can run all the electric – cable, wires, all that kind of stuff – but to actually tie in to the service will require an electrician with a license. Same with the plumbing."
He said everything else "from the foundation up" was created by students.
He said Habitat for Humanity created the blueprint, but NKU students modified it along the way.
"Some of our students are electricians, so they actually laid out a whole circuit plan out on the job site because it wasn't in the plans," Foley said.
"They pretty well have it laid out," Cooper said, "but decisions have to be made sometimes, because it doesn't exactly work out according to their plan."
He said the project is moving along quickly. He said in the first weekend of construction, students completed the floor on Friday, the walls on Saturday and the roof on Sunday.
"I think they hope to have (Daugherty) in by Christmas," Cooper said. "I'd say maybe somewhere around Thanksgiving, at the rate we're going, if we get the electricity and plumbing done."
Foley said the challenge of installing plumbing, electric and mechanical aspects of the house is holding the project up at the moment, but should soon be completed.
The university plans to do the project again in the future, according to Foley and Wilson.
"Habitat for Humanity, they want us to be involved," Wilson said.
"We are excellent out there. We do a good job. We're there, we work, we have a good work ethic when we're out there."
"I think it's an excellent example of the community engagement the president keeps talking about," Foley said. "The civic engagement –