NKU encourges vote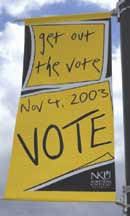 Tony Redell
Northern Kentucky University's first Democracy Day will take place on Nov. 4, Election Day. There will be many activities both on and off campus as part of this initiative to encourage students and Northern Kentuckians to vote.
The Scripps Howard Center for Civic Engagement and Team NKU will sponsor the activities on Nov. 3 and Nov. 4.
"Our main goal is to educate voters on where and how to vote, and to also educate them on the issues and the candidates," said Team NKU member Joe Mills.
On Nov. 3 from noon until 3 p.m. and Nov. 4 from 3 p.m. to 6 p.m., students will drive to intersections around campus and in Boone, Kenton and Campbell counties in "Voter Mobiles" decorated with red, white, and blue streamers and posters reminding people to vote, according to Mills.
At each intersection, students will use bullhorns and hold up posters to encourage people to get out and vote. Students will also be reminded to vote by a student dressed as Uncle Sam driving a "Voter Mobile" golf cart around campus.
A disc jockey will play music Nov. 4 from 11 p.m. until 1 p.m. on the University Center Plaza as part of "Democracy Jams" to further encourage voting.
College Democrats and Republicans will set up booths on the University Center Plaza to remind people to vote, provide candidate information and recruit new members.
Team NKU will be present to provide information on how and where to vote and answer questions students may have about voting. Uncle Sam will also make an appearance at the event.
Banners to encourage voting are hanging around campus, and the billboard at the NKU entrance is counting down the days until Election Day for passers-by.
Dr. Laurie DiPadova-Stocks, director of the civic engagement center, said that she is thrilled with what students are doing for Democracy Day.
"They are embracing the value of our democracy," she said. "On Election Day I hope that everyone votes for the candidate of their choice. With that, they our voting for our democracy."