Men's hoops may surprise many this year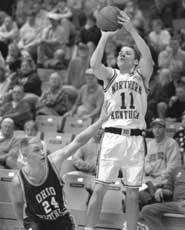 Tim Downer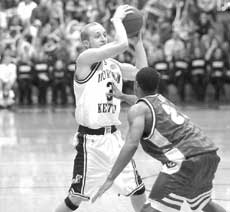 Tim Downer
At first glance, the 2003-2004 Northern Kentucky University's men's basketball team doesn't look to be of the same caliber as teams in the past decade. However, look closer and there is promise on this roster.
"We lost a heck of a lot from last year," said Head Coach Ken Shields. "However, based on discipline, work habits and team chemistry, this team is going to be successful."
NKU will have to find a way to replace four key players off of last year's team: Quentin Smith, Brenden Stowers, Bobby St. Preux and Chris Seabrooks. These four players accounted for nearly 48 points per game a year ago.
The Norse have a solid group of individuals returning. It starts with the three captains of this year's squad: senior Jesse Rupe, and juniors Mike Kelsey and Sean Rowland. All three have excelled on and off the court for the past two seasons, and Shields has rewarded them for their hard work by naming them tri-captains for this season.
Kelsey returns after averaging 14.5 points per game last season and Shields says he still sees continuous improvement in Kelsey's game.
"He is looking very good in practice," Shields said. "I believe he is ready for a possible first-team, All-Conference type season."
Rupe who averaged 6.6 points and 4.5 rebounds last year is, according to Shields, the most improved player on the team from last season. He has added 20 pounds to his 6'10 frame and should provide the most dominating inside presence for the Norse this season.
"Jesse has picked up his game and his confidence on the offensive side," Shields said. "He is just going to have to step up with his interior defense."
Rowland returns after appearing in 30 games last season and is expected to step into the starting point guard spot, bringing smart play and leadership to the floor.
"Sean isn't super quick or a prolific scorer, but he understands the game," Shields said. "He can successfully play four of the five positions on the court and he always makes a positive impact on the game."
Guards Jordan Stowers and Adam Howell also return and should see some spot starts and will provide strong guard play off the bench.
"Jordan has a world of experience at the point position," said Shields, "and Adam is fully recovered from a knee injury and can be a prolific shooter."
There is a promising group of red-shirt returnees, led by 6'7 junior Pat Cary and 6'3 junior Steve Purdon. Cary, a transfer from Wilmington College, will compete for time in the starting lineup and should be one of the most valuable players off the bench. Purdon, a transfer from Union College, is expected to be one of the team's best shooters behind the three-point arch and should earn a lot of playing time as the season progresses.
All five redshirt returnees could see some time in the starting five at some point in the season.
Adrian Wilkinson leads a list of first year players on this team. Wilkinson, a 6'7 transfer from Wilberforce University, has two years of eligibility left, and should make an immediate impact on the court for the Norse.
One question mark remains for this year's team. It is still being decided whether or not University of Louisville transfer Bryant Northern will play this season or redshirt and wait until next season to make his Norse debut. Northern is the only walk-on in Louisville history to start as a freshman. "I am very impressed with this young man," Shields said.
Shields believes that their No. 5 preaseason conference ranking doesn't describe the way he expects this team to compete on the court this season.
"We are really going to surprise some people this year." Shields said.