Hot seat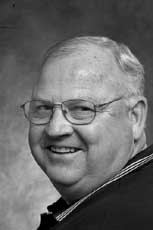 Contributed Media
This week Elias sits down with Men's Basketball Head Coach Ken Shields.
Elias Hajjar: When did you realize this season would be your last? Ken Shields: I guess about two years ago. I was thinking about the future, and I felt like I needed to think in terms of just a couple of more years, and I'll be 62 in December, so I was aware then that it would probably be now.
EH: Why not wait until the end of the season to make your decision just in case you had a change of heart? KS: Well I didn't want to position myself to maybe have a change of heart, but secondly I just felt it was time and I felt in being truthful with the young men we've been recruiting for a couple of years and the players here. I didn't want to break it on them, I wanted them to be aware, so I prepped my present players and I've shared with our possible recruits the fact that I would be leaving the position.
EH: You're in the national championship game, down by two points with five seconds to play. Do you go for the tie or take a 3-pointer to win the game? Who takes the shot? KS: I think in that situation you look inside, maybe where you can get a score inside, maybe get fouled and have the old, traditional three, but in that situation I always say "Take the best available shot." Who takes the shot? Probably, at this, point with his background and experience it would be Mike Kelsey.
EH: You've got a big exhibition game coming up against the University of Cincinnati. Does your team have a chance of upsetting the Bearcats? KS: This year they brought in some outstanding talent. I know that there is going to be a lot of interest with their team and they are supposed to be a lot better than a year ago, but you don't know for sure what might happen. Our biggest emphasis there is the exposure and preparing ourselves for the following week's Disney Classic, when we'll play three games in three days.
EH: You have the most wins as men's basketball coach in NKU history with 290, but no national championships. How important is it to you to win the national championship in your last season? KS: We just missed two championships, one by seven and one by one point. Naturally it would have been wonderful to have had them. Every coach would like to have one, but that is not the ultimate for me. I'd love to have it end up being that way, but I just think it's not something I feel I have to have to be fulfilled as a coach.
EH: Fact or fiction: NKU will win the Great Lakes Valley Conference tournament? KS: I think it's a fact. I think this team can do it. This team has the potential to get better and better, and who knows? We could win it.
EH: Fact or fiction: NKU will win the national championship? KS: Well obviously things are stacked against us, as far as when you think of maybe another 280 teams in pursuance of the same carrot. Again, you just don't know. Certainly our number one goal every year that we go into a season is to win the national championship.
EH: Fact or fiction: There is a slight possibility you might change your mind about retiring and come back for another year? KS: No, there is no slight possibility at all. I am committed to the retirement part of it. I have every intention of continuing to teach in the University 101 program, which I've done the previous 14 years. I would say that I won't be the coach here next year for sure, but I definitely would like to stay and be a part of the university family and continue teaching something that I love very much, because I truly enjoy teaching.