Fraternity wins game for charity
Tony Redell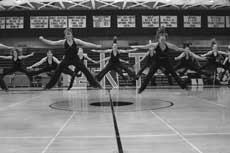 Tony Redell
The Phi Kappa Tau fraternity played the Channel 12 All-Stars Oct. 25 in a charity basketball game at Regents Hall to benefit the Hole in the Wall Gang.
The fraternity defeated the All-Stars, featuring sports director Brad Johansen, by a score of 67-57.
All proceeds from the game will benefit the Hole in the Wall Gang Camps organization, which hosts free summer camps for children ages 7-15 who are terminally ill. The children have an opportunity to enjoy a normal summer camp experience and participate in activities with other terminally ill children. More than 1,000 children participate free of charge each year. The organization also sponsors year-round events and support programs for parents of terminally ill children.
"The first two years we did this project, we donated over $2,000 dollars to the Hole in the Wall Gang," said Richard Watson, Phi Kappa Tau president, "but this year alone we hope to raise $3,000 dollars."
Watson said the Game for the Gang is easy to put on every year because it draws a good crowd to an exciting and entertaining basketball game, and it raises a lot of money for a very worthy cause. The fact that the terminally ill kids get to the camps for free because of the money being raised at events such as the Game for the Gang all adds to success of this event.
"Three years ago the original concept was to just get a basketball game together with the All Stars from Channel 12," Watson said. "We weren't really sure how it was going to all work but, then, the event went on and we wound up raising $1,300 dollars for the event.
"After this happened and we were able to raise a good sum of money, we knew we could turn this into an annual event," Watson added.
Watson said the event has grown in size over the past three years.
"The first year we held the event, it only consisted of the basketball game, a raffle for some door prizes, and a couple of sororities doing some cheers," Watson said. "Now, in our third year, it has expanded to the basketball game, a bigger raffle and every sorority on campus doing a cheer or dance."
Additional information about the Hole in the Wall Gang can be found at the website www.HoleintheWallGang.org