Conference wins propel Norse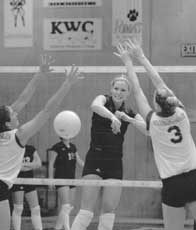 Tim Downer
NKU's volleyball team, notched two important victories against conference opponents, on the weekend.
Friday night, they met up with Lewis, winning 3-1. After dropping the first game, the Norse were sparked by a 15-0 run in game number two and used that momentum to eventually take the game 30-21. Kristin Koralewski, Nicole Salisbury and Kaliana Kalache combined for 11 kills, six blocks and a .381 hitting percentage in the game.
NKU dominated the other two games winning 30-11 and 30-17 on their way to taking the match. Salisbury led the Norse, with 20 kills, 22 digs and a .370 hitting percentage. Koralewski finished with 21 kills, 17 digs and a .487 hitting percentage, as NKU won for the second time over Lewis this season.
Katie Gilman and Lisa Paasch each had 16 kills to lead Lewis.
Saturday the Norse successfully completed a three game sweep over Wisconsin-Parkside, once again behind the strong play of Koralewski and Salisbury.
The two combined for a total of 24 kills and 24 digs. In the first game, which was back and forth throughout. NKU trailed late 28-27, when Kalache connected on an aggressive spike, evening the score at 28. The Norse would go on to score two straight points on kills from Nicole Salisbury, giving them the 30-28 win.
The next two games proved to be a little easier for the Norse, as they won 30-21 in game two, and behind a combined nine kills from Cammi Welter and Kristin Koralewski took game three 30-23.
Welter finished the match with 14 kills and four blocks, while Koralewski recorded her 20th double-double of the season with 12 kills and 15 digs. Sara Taylor added 47 assists and 14 digs, as NKU ups its all-time record against Parkside to 18-0.
The Norse have the chance of hosting the Great Lakes Valley Conference tournament at Regents Hall, if they win the remaining four games on the schedule, and Southern Illinois University of Edwardsville gets one more defeat.
The Norse are back in action next Friday, at the University of Illinois at Springfield followed by a Saturday game versus Quincy. NKU returns home for their final two conference games of the season versus Southern Indiana on November 7 and Kentucky Wesleyan on November 8.