Hot seat: Kendra Zinser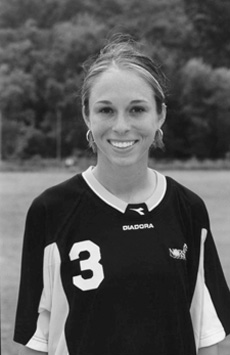 Tim Downer
This week, Elias Hajjar sits down with senior soccer player Kendra Zinser
Elias Hajjar: You're tied with Amy Law as the leading scorer at this point in the season, is there anyone on the women's team better than you? Kendra Zinser: No, because I think we are all equal. We all have the ability to score; it just depends on who gets the opportunity. As of right now I might be tied, but next weekend things could be different.
EH: Is this the year NKU will bring home the Division II Championship? KZ: Yeah, because it is my final year and I'm not leaving without a ring.
EH: It's the championship game, during stoppage time, NKU gets a penalty kick that could essentially win the game. Who takes that kick for the team? KZ: Amy Martini. She can keep her composure under pressure.
EH: Bobby Pifer said in the first Hot Seat that there is no way the women's team could beat the men's team in a scrimmage. Is he right? KZ: Let their record answer that question.
EH: Who would you rather meet, David Beckham or Mia Hamm? KZ: Mia Hamm, especially after watching her performance in the world cup.
EH: Fact or Fiction: Kobe Bryant will be found guilty of rape? KZ: Fact. I just think he's guilty
EH: Fact or Fiction: The lady Norse will go undefeated the rest of the season? KZ: Fact. We have no choice. If we want to make it to the NCAA tournament, we have to go undefeated.
EH: Fact or Fiction: This was the worst interview you've ever had? KZ: Fiction. It's easier to answer questions when you're not on camera.