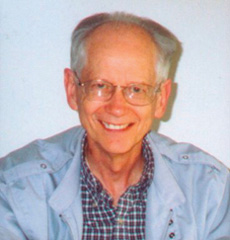 Contributed Media
A state-wide group has recognized what Northern Kentucky University has known all along.
Dr. James Ramage, NKU regents history professor, was awarded the 2003 Acorn Award from The Kentucky Advocates for Higher Education on Sept. 21. He is the first NKU professor to win the award, which recognizes outstanding individuals in the teaching profession.
Jeff Williams, history department chair, nominated Ramage for the award.
"For years, I've seen his great teaching, and his knowledge of history," Williams said. "I've been working with this man for a long time. He deserves this recognition."
The Acorn Award, established in 1992, is presented each year to a professor exhibiting excellence in their services and commitment to students.
The recipient receives a hand-carved plaque, featuring a relief of an acorn and leaves, and a $5,000 honorarium.
Ramage has received several other teaching awards, including NKU Outstanding Professor of the Year award in 1988. In 1994, he was awarded the title of regents professor, and in 1999, he won the NKU Outstanding Faculty Advisor Award.
The Acorn Award is one of the greatest awards I have received," Ramage said. "Teaching is a way of life. It's more than just a classroom."
"James Ramage reflects all of the virtues of an outstanding faculty member," said NKU President James Votruba. "He is a prolific and widely respected scholar. He is a gifted teacher, and he cares deeply about his students and involves them in his work.
"All of us feel a great sense of pride in his receipt of the Acorn Award given annually to Kentucky's outstanding professor," Votruba added. "Professor Ramage's career reflects the highest standards of our profession. In addition, I believe that he represents those qualities that define an NKU faculty member."
Ramage grew up in Paducah, Ky., where he aspired to teach agriculture, not history.
When he joined the Air Force Ramage began to read books on the Civil War, and decided to pursue a career teaching history.
He received bachelor's and master's degrees in history from Murray State University, and earned his Ph.D. in history from the University of Kentucky. Ramage joined the staff of NKU as a history professor in 1972.
Ramage has written three books and is currently working on a fourth. He has also been affiliated with Phi Alpha Theta, a national history honor society, since its founding 20 years ago.