Norse win conference title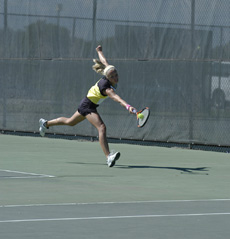 Tim Downer
The Northern Kentucky University women's tennis team captured the Great Lakes Valley Conference title on Saturday by posting a 5-2 win over Lewis University in the championship match.
Jessica Smith and Lindsay England each won at singles and doubles competition for the Norse, who captured their fifth GLVC crown in the past six years.
Smith teamed with Kari Goodrich for an 8-4 win over the Lewis tandem of Daphne Hill and Lauren Koveleski at No. 3 doubles. Smith later defeated Alane Lezatte, 7-5, 6-0, in No. 6 singles competition.
England and Renae Wright posted an 8-6 victory in No. 2 doubles over Liz Mendoza and Lezatte. England also took a 6-1, 6-4 decision over Koveleski in No. 5 singles.
Head Coach, Geoff Crawford says this tournament showed how much this team relies on everyone to succeed.
"It was a complete team win," said Crawford. "Everyone played very, very well."
Freshman Becky Dister ended a successful first half, by finishing undefeated (8-0) in singles play, and was named GLVC Freshmen of the year. Senior Elizabeth Brunsman finished her singles season with a solid 8-2 record, which was good enough to get her named to the GLVC All-Conference Team. Jessica Smith (8-1), Renae Wright (7-1), and Lyndsey England (8-2), rounded out the strong showing in singles competition this season for the Norse.
The win also caps off an impressive GLVC tournament, in which NKU lost just two individual matches throughout.
They knocked off Bellarmine 5-0 in the first round, and Southern Indiana, 5-0 in the semifinals.
NKU improved to 12-1 overall, and the Norse earned an automatic berth in the NCAA Division II Tournament in the spring. A place Crawford believes NKU will see success.
"We will continue to work on our weaknesses," said Crawford, "and we will be heard from in the NCAA tournament." NKU also advanced to the NCAA Division II Tournament in 1999, 2000 and 2002 but could not make it out of the second round.
-Article by Sports Information
*Kyle Burch contributed