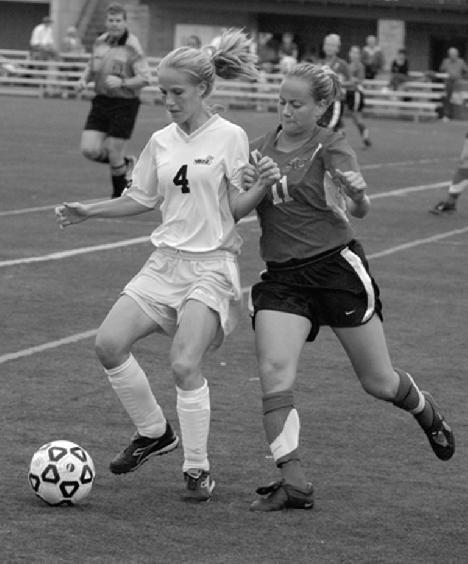 Tony Redell
It took 19 shots on goal, 10 corner kicks, and 96 minutes of impressive soccer by the womens soccer team, but in the end the work paid off with a 2-1 overtime win over Southern Illinois University-Edwardsville, Friday.
The Cougars made the Norse work hard for every shot they took. With SIUE goalkeeper Kristen Covalt being right there to make the save. This good defense led to a scoreless tie at halftime.
In the second half, things were different for both sides. After a very physical first ten minutes in the half, SIUE was first to find the back of the net, when Ann Crawford shot a 15-yarder past Norse goalie Kristin Polosky to make it 1-0 SIUE.
The lead did not last long, as a few minutes later, Amy Martini's corner kick connected perfectly with Katie Kugele, and Kugele scored her 2nd goal of the season to make it 1-1.
The game then went into overtime, which proved to be more physical than regulation.
Six minutes into the overtime period, Bobbi Meister lofted the ball to Emi Himeshima.
As Kristin Covalt was running out of the net to challenge the rush, Himeshima passed the ball to freshman Amy Law, who shot into a wide open net for her 6th goal of the season, and the 2-1 victory.
Law continues to make a strong bid for the conference freshman of the year award.
Kristin Polosky, a former NKU basketball player who switched to soccer for her senior year, logged all 96 minutes of the game in the net.
The win also accomplished a milestone for NKU. They currently have a 50-game unbeaten streak (46-0-4) in conference play.
"We never planned for 50 games" Head coach Bob Sheehan said. "We aim every year to win the #1 seed and the opportunity to host the GLVC tournament here in Wilder, and also we aim to win it."
NKU can win the rights to host the GLVC tournament, if they win two, while Wisconsin Parkside loses two. They currently stand in first place of the GLVC, with just four conference games remaining this season.
The Norse are now 10-2-1 for the season, and a perfect 6-0 in the GLVC.
HANCK RECIEVES GLVC ACCOLADE:
Sophomore midfielder Katie Hanck was named GLVC Womens soccer Co-Player of the week last week, sharing the honor with Danielle Polce of Bellarmine. Hanck was awarded the honor with a goal and an assist against Missouri- St. Louis on October 3, and the tie-breaking assist to Laurel Chalk against Southern Indiana on October 5. Both games were NKU victories, with 2-1 finals.