'Daredevil' artist returns to campus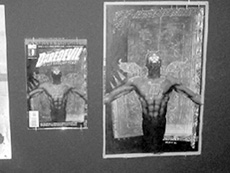 Josh Blair
The main gallery in Northern Kentucky University's Fine Arts Center Oct. 2 opened to David Mack: Passport to All Worlds, throwing visitors into a world of myth and adventure.
Mack, a 1995 NKU graduate, may be best-known to students for his work on the Marvel comic "Daredevil," recently made into a movie, starring Ben Affleck.
Another of his major accomplishments is "Kabuki," a comic for which he was the creator, author and illustrator.
Kabuki is not only the title for the comic, but also a central character, who is one of eight members of the Noh, a secret organization watching silently over Japan.
Mack is currently working on a feature film of "Kabuki" with Fox Animation. Although he has had many previous offers to make the film, Mack said he wanted to "stay true to the spirit of the work."
"His art is unique, because of his use of different mediums," said David Knight, director of exhibitions and collections.
These different media are photography, paintings, drawings, collages and printed work.
"I never wanted to specialize in one area and neglect the others," Mack said. "I wasn't comfortable narrowing my interests into one box."
While in the gallery, visitors may notice that not only do Mack's media change, but also the size of his work. One piece, in particular, is to scale.
Mack also said that, under the guidance of NKU professors such as Kevin Booher, Margo Jang, Steven Fink, Lydia Coyle, Julia Bedell and Andrea Knarr, he learned different ideas that he could apply to the work he was passionate about.
While in Dr. Margo Jang's course, Mack completed his first issue of Kabuki.
On Oct. 22 at 8 p.m. in Greaves Concert Hall, Mack will lecture about his work.
David Mack: Passport to All Worlds will remain open, Monday through Friday, through Friday, Oct. 31.