Basketball warms up for season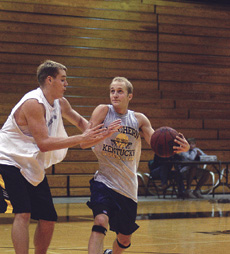 Tim Downer
With fall beginning, that means that basketball season is just around the corner. With practice starting on Oct. 15, and conditioning already a month old, the Northern Kentucky Men's basketball team is looking forward to a successful season.
Center Adrian Wilkinson, says that conditioning is tough, but that it isn't a new experience for him.
"The only difference between our conditioning compared to high school, are that the courts are bigger," said Wilkinson.
His goal for the season is to be able to last until the end of the first overtime, but Wilkinson feels as if he is not there just yet.
There have been a few people who have gotten injured during conditioning but it shouldn't have a major effect on the roster for the season.
During their time in the gym the team takes part in many different kind of drills.
Wilkinson mentions that his least favorite drill is called, the spider. The spider is where you sprint to a cone and get into a defensive slide, with the whole team having to finish in 51 seconds or less. University of Louisville transfer Bryant Northern has the quickest time of anybody, while Adrian has the strongest bench press at 340 pounds.
Conditioning is six days a week, and lifting is two times a week. Conditioning includes running on a hill behind the baseball diamond backwards and forwards and the different drills in the gym.
Oct. 15 is when the official practice season begins, and there will also be Meet the Norse on Oct. 29, which will introduce this year's men's and women's teams to the student body. The event will include many different activities such as a slam dunk contest, and free Skyline chili.
It will serve as a way to kick off the competitive basketball season here at NKU and gives the campus a chance to show their support for the teams.