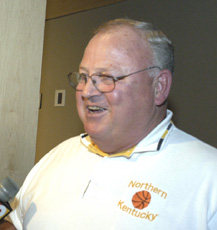 Tim Downer
At a Tuesday afternoon press conference, men's basketball Head Coach Ken Shields announced his retirement, effective following the 2003-2004 season, which will mark his 16th season as head coach for the Norse.
"After 40 years of coaching basketball, I am definitely going to miss it," Shields said. "I just feel like it's time."
Shields has compiled a 290-155 career coaching record while at Northern Kentucky University, making him the winningest coach in school history. Prior to his career at NKU, Shields coached for 23 years in the high school ranks, at both St. Thomas and Highlands high schools.
The NKU basketball program had an all-time record of 244 wins and 213 losses, with only one appearance in the NCAA Division II tournament, before Shields took over.
The program has flourished under Shields, becoming one of the most dominant in the country. He has led NKU to three Great Lakes Valley Conference regular season championships and seven appearances in the NCAA Division II tournament, including two trips to the national championship.
The announcement was not a complete surprise. Shields was quoted in the Cincinnati Enquirer last May as saying this season would likely be his last. Basketball players Mike Kelsey and Jesse Rupe also have discussed this possibility of Shields' retirement.
said, "but this was the first real confirmation of it actually happening."
Shields said he also has been honest with prospective NKU recruits about the possibility of his retirement.
"I've told all of the recruits, for the past couple of years that there was a possibility of me retiring," he said. "It's been very important for me to be very truthful and up-front about this to everyone. That is why I am making the announcement so early."
The impact of Shields' retirement, not only on the campus, but on the entire Northern Kentucky community, was evident at the press conference. Many members of local school administration and media, as well as the entire men's basketball team and all members of his coaching staff, were in attendance.
Shields has used his position at NKU to touch many lives and make a lasting impression on his players. In fact, 27 of his former players have coached in some capacity at the high school and college levels.
"I've been blessed with players who were committed to become the best they could become," Shields said.
Shields plans to stay involved with the NKU community by continuing his duties of being a part-time teacher, something that NKU President James Votruba believes will be greatly appreciated by the university.
"Ken Shields is first and foremost a teacher," Votruba said. "Great teachers make great coaches, and great coaches make great teachers."
Shields said he plans to spend more time with his family, which includes his wife, five children and nine grandchildren, during his retirement.
According to Athletic Director Jane Meier, activities will be planned to celebrate the final season under Coach Shields.
No possible replacements have been named to succeed Shields. However, several members of his coaching staff have been with him for many years, including assistant coach Pat Ryan, for 15 years, and assistant coach Dave Bezold, for 13 years. Meier said that the search for a replacement will not begin until the early spring.