Volleyball team served loss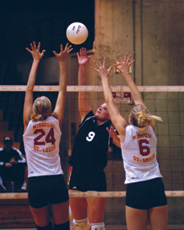 Tim Downer
After losing to conference rival Southern Illinois University at Edwardsville, Friday night, Northern Kentucky University's womens volleyball team regrouped and dominated the University of Missouri-St. Louis winning the three to nothing, Saturday.
NKU controlled Missouri St. Louis in the first game of the match winning 30-16.
The next two games would prove to be a little more competitive, as Missouri-St. Louis kept the scores closer, and even jumped out to an early lead in the third game, before, Kristen Koralewski served seven consecutive points in a row.Koralewski also ended thematch with a service ace.
NKU's record improved to 13-7 overall and 6-1 within the conference.
Koralewski led the team with 19 kills and 14 digs, her ninth double-double in ten games.
Marcela Cuhna returned from injury this weekend and played the setter position for the first time in a year and a half.
Cunha finished wtih 49 assists and five digs. Senior Nicole Salisbury also pitched in with 15 kills, 14 digs and a .481 hitting percentage.
In the loss on Friday, SIUE defeated NKU 3-0. The loss was the first conference loss for the Norse and the first time SIUE has beaten NKU in five years.
NKU dropped all three games with scores of 30-24, 30-26 and 33-31.
After being outplayed in the first two games, the Norse went on the offensive in game number three.
The game went back and forth throughout, before SIUE pulled ahead taking a 27-24 lead. But the NKU stayed resilient, as they rallied to capture a 30-29 advantage.
However, SIUE would go on a 4-1 run eventually winning the match, as a kill attempt from NKU's Kristin Koralewski was blocked to end the match.
Kindra Westendorf led SIUE with 10 kills, seven digs and a .455 hitting percentage. Andrea Voss aided in the effort, with 12 kills and a .435 hitting percentage.
In game number one of the match, Cammi Welter became just the sixth player in NKU history to surpass 1,300 kills.
NKU has two more games next week against conference foes, St. Joseph's and Indianapolis. The Norse will then travel to Edinboro, Pennsylvania to take part in the Edinboro Invitational on the weekend of October 17.
The womens volleyball teams next home game will be Oct.24 against Lewis beginning at 7p.m. in Regents Hall.
*Kyle Burch contributed to this article