Tennis team finishes undefeated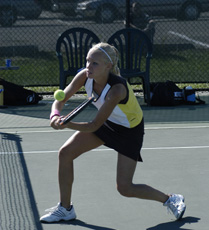 Tim Downer
Going undefeated through conference play isn't something out of the ordinary for NKU's women's tennis team but that doesn't mean it's an easy task.
This season marks the fifth out of the last six years that the Lady Norse tennis team has finished the season with an undefeated mark.
"We weren't expecting to go undefeated," said Head Coach Geoff Crawford, "but we knew that if we played up to our potential that we would have a shot at having a lot of success."
Success is exactly what the team has accomplished. The Norse enter this weekend's Great Lakes Valley Conference Tournament, with an unblemished 9-0 record, and the number one ranking. Crawford believes his team is prepared for the tournament, but according to him there is still a lot of work to be done.
"Our singles play has been our strength throughout," said Crawford, "we will use the time before the tournament to continue to improve our doubles play. That will just make the team that much stronger."
The overall 9-0 record is proof that this NKU team relies on each and every person to step up when needed. The team has seen leadership from seniors Elizabeth Brunsman and Heather Gilmore, and has gotten big contributions from freshmen Becky Dister, Kari Goodrich and Renae Wright.
Dister has enjoyed success in her first season of collegiate play, something she says wasn't what she really expected. "I didn't really know what to expect," said Dister. "I thought I would have some success but I wasn't sure how much."
Dister and junior Jessica Smith both finished the season 8-0 in singles play, while Brunsman and junior Lyndsay England ended singles play at 8-1. The freshmen were expected to be a strength at the beginning of the season but according to Crawford, they have exceeded their expectations.
"No one has let down," said Crawford, "and the team has overall played extremely well."
The doubles play has gotten a big boost from Wright, who has teamed up with England compiling a record of 6-0, and paired with fellow freshman Goodrich, for a 3-0 record.
The tournament gets under way on Saturday in Indianapolis, and will run through the weekend. The winner of the tournament gets an automatic bid into the NCAA tournament, which takes place in the spring. Dister believes the team has a good chance of coming out on top at the end of the weekend.
"If we all play our best," said Dister, "we should be able to win the tournament."
With a victory in the tournament the team would be able to advance their regional ranking, and would be invited to the NCAA tournament in the spring. Crawford, however says his team isn't looking past anyone.
"We feel like we should get a strong regional ranking in the NCAA tournament," said Crawford. "We still need to take the conference tournament match-by-match because we will be facing some real tough competition."