'On and On' a perfect dose of fun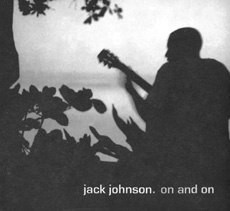 Contributed Media
The last thing the world needs is another warm-voiced, white boy, acoustic guitar, reggae rip-off singer/songwriter. At least, that's what I thought before I listened to Jack Johnson's On and On.
Johnson, a successful professional surfer-turned successful indie-movie maker-turned successful underground musician, is not what I expected to hear. I thought I would find the kind of radio-friendly, over-produced musician that bubbly high school girls listen to.
His songs filled with soul, blues and reggae, combined to form jams with interesting imagery and heart.
Johnson's voice is pleasant and real. He does not try too hard; his singing style is laid-back and perfect for his type of rainy-day, relaxed-beach, party music.
Johnson's guitar playing is smooth and original, and his sparse back-up band is incredibly talented. According to Johnson's website, Adam Topol, his percussionist, studied at Berklee College of Music. Throughout the album, Topol has impeccable timing and creative drum beats. This is heard especially in tracks like "The Horizon Has Been Defeated" and "Taylor."
Even though Topol's drumming is the most complex I've heard in a while, it doesn't take a way from the relaxed, down-home appeal of Johnson's music. Bassist Merlo Podelewski compliments Johnson's tunes with melodies the music world hasn't seen since Led Zepplin's bassist Jon Paul Jones or Yes's Brian Squire.
Mix this combination with interesting hooks and sing-along lyrics, and you have Johnson's On and On – an album that is just like hot chocolate for your ears, it tastes great and goes down smoothly and soothingly.
For Johnson, less is more. His songs are beautiful, catchy, but not annoying, and above all they don't put on any pretenses.
No overproduction is heard on the album, no strings, no horns, just Johnson and his friends jamming.
The songs span from barely a minute long to four-minute jams. Some of his coolest songs would be wearisome and would drag the album down if they were pumped full of solos and repeated choruses.
Instead, Johnson's s shorter tracks are like delicious snacks; if you ate too much you would be sick, but mixed in with the great songs they seem like special treats.
The lyrical content of this album is rich. Johnson's songs range from girls to life's philosophies to poignant social criticism. He pulls this off with melancholy love ballads, short mellow jams, funky reggae rhythms and revamped blues all in his acoustic "So Cal" surfer style.
With Beatles-like melodies and Bob Marley-influenced rhythm, Johnson tells many a beautifully-worded tale. One of his standout tracks is "Cookie Jar," which deals with violence portrayed in the media and who or what is to blame. Johnson can deal with an issue as serious as school shootings and still lay down a killer beat and infectious rhythm.
The disc ends with the beautiful, stripped-down song, "Symbol in my Driveway," which has soft surf noises and the faint voices of friends and children in the background.
On and On is a great mix of songs. Some will want to make you dance, some will want to make you rise up, others will make you want to fall in love, and some definitely will make you never want to fall in love.
The album, unlike so many recently released, can be listened to in one sitting because there is no filler, only the bare essentials. Nothing is longer than it needs to be, and therefore, everything is interesting and authentic.
If you liked Johnson's 2000 debut, Brushfire Fairytales, you'll be even more pleased with On and On. It retains the same stuff you loved from the first album, but packs in new experience, skill, and growth.
It's everything you want to see from an artist's sophomore record: more mature but not off on some experimental tangent.
If you are a music fan I seriously suggest you buy this album because, no matter what genre you prefer, we all need a little dose of fun and relaxatio,n and Jack Johnson's the best stuff you can take.