Friday is denim day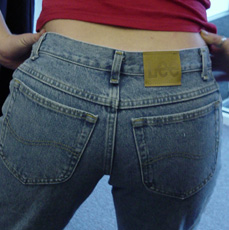 In the honor of Breast Cancer Awareness Month, the Campus Recreation Wellness office, headed by Sue Roth, associate director for Wellness and Fitness in the Campus Recreation department, is participating in Lee National Denim Day.
This is the world's largest single-day fundraiser for breast cancer, according to the Denim Day web site.
On Friday, Oct. 10, all students are invited to wear denim and donate $5 to support the Susan G. Komen Breast Cancer Foundation in the research, education, screening and treatment programs for breast cancer. Students are welcome to donate more to the cause if they desire.
This campaign is more directed to faculty and staff, but anyone is welcome to participate and donate. Donors will also receive a pink ribbon pin, which symbolizes breast cancer awareness.
This is a nationwide fundraiser to promote awareness and also educate people on the topic of breast cancer.
The money raised in this area, however, stays in this area and is only spent locally, said Roth.
Employees who would like to participate can drop off their donations in the Human Resources Office, AC 708. Make checks payable to the Susan G. Komen Breast Cancer Foundation.
This is the third year NKU has been involved, and the eighth year Lee jeans has sponsored the day.
In the past, NKU has raised approximately $600 for the foundation, however, according to the Susan G. Komen Breast Cancer Foundation website, nationwide the event has raised more than $36 million in the past eight years to find a cure for the disease.
For more information on breast cancer awareness on the Susan G. Komen Breast Cancer Foundation web site at www.komen.org or about the National Denim Day at www.denimday.com.