Fraternity fights homelessness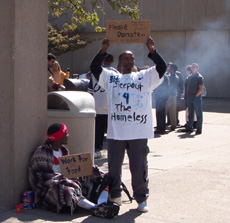 The Phi Beta Sigma chapter at Northern Kentucky University held its annual "Sleep Out for the Homeless" on Oct. 2. Members collected canned food items, clothes and monetary donations, and raised awareness for homelessness.
"It's been a program that the fraternity has done [nationally] for the past 80 years," said Jermar Mack, sophomore recording and corresponding secretary for the fraternity.
The NKU chapter has sponsored the program on campus for the past eight years.
PBS Vice President Michael Wade and other members began the dramatization during lunch by asking for donations in front of the University Center and visiting each department on campus.
Other members of the fraternity later joined them in front of Norse Commons and stayed outdoors with sleeping bags and cardboard covers until 1:15 a.m., as the temperature dropped below 37 degrees.
"It's something you don't really think about, unfortunately," sophomore Jillian Sample said. "The guys from Phi Beta Sigma coming out and doing this brings it into reality and puts it in perspective."
"We're trying to let the students of NKU know that there are people less fortunate and need our help," Mack said.
"Imagine if it was your reality," PBS President Brian Carpenter said.
"It's always good to give back," he added. "You never know what difference you can make. If you give a little change, you'll make change in someone's heart, home [or] family."
Lyndsey Yeager, senior speech communications, said she believes that PBS does a tremendous job bringing awareness to social issues, considering the fraternity has only six active members.
"I think it's wonderful and for a good cause," she said. "The Sigmas do it every year, and I think people should support their programming."
Phi Beta Sigma was founded to teach its members to be involved in community issues, rather than using a college education to advance only themselves and their families.
Proceeds from the event were given to the Welcome House of Northern Kentucky, which provides services for homeless and poor families and individuals.
For those interested in contributing, but who missed the activities, donations may be taken to the Welcome House, 205 Pike St. in Covington, between 9 a.m. and 4 p.m.