AAC asks D.C. for funds to combat AIDS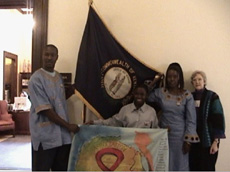 Members of the Northern Kentucky University Association of African Charities met with political leaders in Washington, D.C. Sept. 26-29 to lobby President Bush to provide $3 billion he promised to Africa for its fight against AIDS.
AAC President Chanda Kapota, Vice President for Research Lovingson Mtongwiza and administrator Selina Oladapo traveled to the nation's capital for a national AIDS conference, organized by the Global AIDS alliance.
"Our main purpose is to fight against AIDS and help the poor," Kapota said.
Mtongwiza said the Bush administration promised to allocate $3 billion dollars to Africa to be used to combat the continent's spread of AIDS, but so far only $2 billion is set aside.
"If we can give $87 billion to Iraq and Afghanistan, why can't we give $1 billion to Africa?" he asked.
"The reason they gave us is that Africa does not have the capacity – infrastructure, personnel – to support the $1 billion," Mtongwiza said. "The purpose was to make a statement by lobbying the President to tell him the country does have the capacity."
He said people came to the conference from around the world and "it made us see what is really going on."
"It's not just a Africa thing," Mtongwiza said of AIDS. "It's all over the world."
The AAC members were invited to speak at the conference because each member is a native of Africa and could testify to the nation's problems.
"We brought awareness," Mtongwiza said. "We were invited so we can tell our stories. We were their examples."
Kapota said the $1 billion is needed to buy medicine to treat AIDS in Africa.
The AAC will observe World AIDS Day on Dec. 1 by wearing black and encourage students to do the same. They will also hold an essay contest and hope to bring a speaker to campus.