NKU is priority, candidates say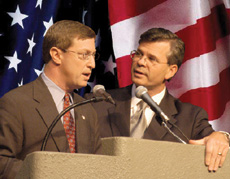 Gubernatorial hopefuls Ben Chandler and Ernie Fletcher said Tuesday night that increased funding for Northern Kentucky University will be a priority, but neither candidate presented a detailed plan for achieving that goal during a debate at Regents Hall.
The latest debate in a competitive race for the Kentucky governor's seat between Democratic Attorney General Ben Chandler and Republican Congressman Ernie Fletcher consisted mostly of plans to restructure the state's economy.
The candidates answered questions from a panel of four local media professionals and took overt jabs at each other's personal and professional lives during the hour-long debate, the only one to be held in the region.
Both candidates called Northern Kentucky a "major economic engine" of the state and named NKU as a major reason.
"NKU has developed in a very short period of time into a major, major university of the commonwealth of Kentucky, and I know it is something that unites all of the people of Northern Kentucky," Chandler said. "We may have our political differences…but one thing we all agree on is the importance of Northern Kentucky University."
Chandler said he "would not commit" to making funding for NKU a part of his first budget if elected, but, "it will be a priority," he said.
Fletcher presented a more concrete plan for the university.
"Equity in funding in universities needs to be implemented," he said. "I will absolutely work on that. This university is integrated in the economic development of the region."
Fletcher said he hopes to encourage college graduates to work and live in the state by promoting equity in funding for universities.
"We need to make this a job-friendly environment to attract and keep young people," he said.
If elected, Fletcher said he also plans to boost Kentucky's economy by making drastic cuts to government expenditures. He hopes freeing these funds will lower healthcare costs and draw more new businesses into Kentucky.
Chandler plans to completely reorganize the state budget and improve the state economy by bringing new revenue into Kentucky through racetrack gambling and the state lottery.
Personality and past political actions were also an issue between the candidates.
Fletcher has long focused on improving the ethical and moral standards of Kentucky government. He accused Chandler of being one of the "good old boys" in the famously scandalous Patton administration, which Chandler vehemently denied.
"You are showing your profound lack of knowledge," Chandler said. "You seem to think I'm responsible for everything that happens in Frankfort. Next you'll say I caused Paul Patton to have an affair."
Chandler asked why Fletcher voted against a bill to import cheaper prescription drugs from other countries.
"Ben Chandler, you don't have a clue about health care, and it really upsets me," Fletcher replied.
Fletcher added that he voted against the bill after he learned that 88 percent of imported prescription drugs are tainted or damaged.
Chandler called the claim "bogus," and accused Fletcher of failing the commonwealth at the national level.
"What you're really bringing [back to Kentucky] is just crumbs," he said. "It's a historic example of credit card spending at the expense of our future."
The candidates did agree, however, on a few important issues, such as how to balance the budget without raising income, sales or cigarette taxes.
Both candidates said they did not plan to raise cigarette taxes in congruence with the tax amounts of surrounding states, but both supported state-funded plans to educate children about the dangers of smoking.
"I believe we can balance the budget without raising taxes," Fletcher said. "We need to address our healthcare concerns and teach children…the risks and harms of smoking."
"If you were to put somebody in charge of health care, would you want an attorney or a physician?" Fletcher asked the crowd.
Chandler said he would hire a surgeon general to educate citizens "without any added cost."
Northern Kentucky University President James Votruba said hosting the debate is very important to both the region and the university because NKU prides itself on encouraging civic engagement in students.
"The strength of a democracy is what we're doing right here today – it's political dialogue, it's civic discourse, it's debate," Votruba said in his opening remarks.
"This is what Americans do, this is what freedom-loving people do, and this is what Northern Kentuckians do," he said.
NKU alumna Tricia Macke moderated the event. Kentucky Post editor Mike Philipps, Kentucky Enquirer political reporter Patrick Crowley, Cincinnati Business Courier reporter Lucy May, and Landmark Press editor Warren Wheat questioned the candidates on the issues of the economy, prescription drugs, cigarette taxes and the tax code.
The debate was sponsored by Legacy, a local civic group composed of young professionals who seek to improve Northern Kentucky, as well as 37 other businesses.
The gubernatorial election will take place on Tuesday, Nov. 4.