Norse shut out Panthers 4-0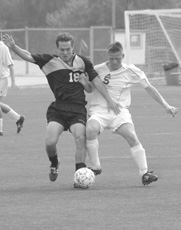 Tim Downer
Last Thursday, men's soccer Head Coach John Basalyga made it clear to his players that anything short of their best effort in Friday's game against Kentucky Weslyan would not be tolerated.
Apparently, the team took that message very seriously, as several key members of the team took charge.
The end result was an impressive 4-0 victory for the Norsemen over the Kentucky Weslyan Panthers, in front of the "Norse Nation" and hundereds more on Thunder Day at Town and Country Sports Complex in Wilder.
The game began with the same style of play that has recently become NKU's trademark – a system that slowly grinds down the tempo of the opponent, and results in success later in the game.
This was how it was for the first 34 minutes of the game, as NKU outshot KWC 10-0 in that span.
In the 35th minute of the game, freshman Matt Flick took a pass and beat Panther goalie Mark Huesing for his 2nd goal of the season to make it 1-0.
Six minutes later, sophomore Randy Walters took a corner kick from Flick and scored his 3rd goal of the season to make it 2-0.
The half ended with NKU outshooting Kentucky Weslyan 13-0.
The first 20 minutes of the second half were physical, with each team picking up two fouls, but NKU once again opened up the shooting gallery on Marc Huesing.
Jeremy Robertson's free kick in the 67th minute to freshman Nadeem Al-Alami resulted in Al-Alami's first career goal and a 3-0 lead.
Nate Rudolph shot a corner kick in the 68th minute, and 26 seconds later Randy Walters struck gold again with his second goal of the game, giving NKU a 4-0 lead and rounding out NKU's scoring for the night.
In the end, the Norse outshot the Panthers 22-4, with the first KWC shot on goal coming in the 68th minute.
Nate Madden (75 minutes) and Steve Tabar (15 minutes) shared the four save shutout for the Norse, who improved their record to 3-4-1 and 1-0-1 in the GLVC.