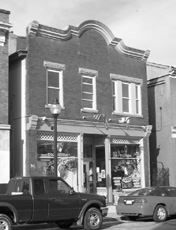 me
If you're like me and won't eat anything cooked by a teenager, you know that it's tough to find cheap, quick food in Northern Kentucky.
Luckily for me, the best Mexican restaurant in the area is within walking distance of both my house and workplace. Located at 642 Monmouth St. in Newport, La Mexicana serves the kind of Mexican food you'd expect to find in a family restaurant south of the border, and at an affordable price.
The everyday menu is comprised solely of burritos, tacos and tamales, but there is usually at least one daily special. The burritos ($5.99) are huge, with your choice of nine different meat fillings mixed with beans, rice, lettuce and tomatoes. The tacos, which come with most of the same meat choices, are served in soft, open-faced tortillas and garnished with chopped onions and cilantro, with a side of lime wedges and occasionally queso fresco, a Mexican cheese similar to feta.
My favorite choice for either tacos or burritos is al pastor ($1.69), seasoned pork shoulder cooked in guajillo salsa, which looks and tastes a lot like a slightly spicy barbeque. Other delicious choices are pollo ($1.69), seasoned chicken saut