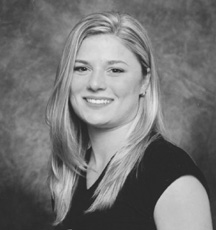 Tim Downer
This week Elias sits down with NKU volleyball player, Kristin Koralewski.
Elias Hajjar: Congratulations on being named National Player of the Week. How does it feel to be just the third player in NKU history to earn such an honor? Kristin Koralewski: I feel very honored. I was quite surprised because I look at my team first before anything, and as long as we are winning that's all that matters to me and to get that award is just something extra.
EH: Do you think women's sports at NKU get enough recognition? KK: No I do not think they get enough recognition. I don't think any sports nowadays get enough recognition, especially women's sports … I think the basketball programs here does get a lot of recognition, volleyball on the other hand does not, and I'd love to see more recognition for volleyball.
EH: Why don't you think volleyball is getting the recognition? KK: Well obviously in the greater Cincinnati area it's football and basketball, and not a lot of people go to volleyball games or are interested in volleyball games, and I think it can be an up and coming sport for people because they are a lot of fun to go to.
EH: Do you know who won the WNBA Finals this season? KK: No I don't.
EH: Didn't think so. Neither do I. Anyway, you spent your freshman year at Northern Michigan, why did you decide to transfer here? KK: I transferred here my sophomore year because my coach resigned two weeks before the season started, and I wanted to go somewhere I go fit in better and that had my major, and the volleyball program is a lot better.
EH: Your picture was all over a recent Northerner issue. Anyone ask for your autograph? KK: Yes, a couple of people did and I joke around about it because it is funny.
EH: Do you get recognized a lot? KK: Not too much, but obviously last week I did a lot, and a lot of people I didn't know came up to me and asked, or would stare at me.
EH: Freaks! Have you ever broken someone's nose like Greg Faucker (Ben Stiller) did in "Meet the Parents" with a spike?