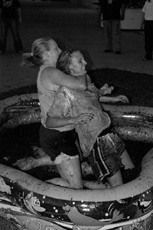 Tony Redell
The Student Life Office and Interfraternal Council (IFC) have begun a formal investigation into recent Tau Kappa Epsilon and Phi Kappa Tau fraternity recruitment activities that upset some students, who accused the fraternities of sponsoring activities that degraded and objectified women.
Tau Kappa Epsilon hosted a "safe sex party" Sept. 16 in the University Center Ballroom, and Phi Kappa Tau sponsored Jell-O wrestling on the UC plaza.
In the following days, students alleged that women were forced to put condoms on cucumbers with their mouths and to wrestle in Jell-O in their underwear.
TKE president Kyle Hayse said the students who complained were misinformed. He said the "safe sex party" was intended to be educational and fun, not sexual, and that all activities were consensual.
Student Life Director Betty Mulkey said the activities are not something the department wishes to promote.
"We have some very serious concerns that we have addressed with the fraternity presidents," she said. "We really want to get at the heart of the matter, at what really happened. We hope to have [the investigation] resolved here within the next week."
IFC President Luke Groeschen said that he visited the activities to make sure things were running smoothly, but said he did not notice any unusual or disturbing events. However, he said the IFC is working with the Student Life Office to investigate the issue.
"No one was putting condoms on with their teeth, I can tell you that," Hayse said.
"Nobody was forced, nobody was picked unless they volunteered for it. [Participants] were blindfolded just to make the game a little bit more complicated. They had to tear open the condom package and put the condom on the cucumber. They used only their hands – no teeth, no mouth."
He said TKE members distributed brochures and condoms at the party to promote safe sex and to educate attendees.
Hayse also said the Jell-O wrestling was co-ed and all students were fully clothed.
"There were guys and girls Jell-O wrestling," he said.
"It wasn't girls in their panties and bikinis – it was guys and girls in shorts and t-shirts. They took volunteers. It wasn't like they just grabbed random girls and said, 'You need to Jell-O wrestle.'
"There really wasn't anything sexual about that," he added. "I don't know where people got the idea that there were girls out here in panties and bras, because that wasn't seen all night."
"The event was designed to provide an atmosphere whereby students could participate in innovative and interesting events," said PKT president Richard Watson. "None of the events of the evening provided for degradation or humiliation. No person was ever in their underwear and no act of initiation was involved."
"Our intentions were not to offend anyone, and we apologize to anyone who may have felt that way," he added.
"Right now the matters are under investigation. We're looking into what actually did occur there," Groeschen said. "We've been talking to the members of each fraternity and if we find action needs to be taken, we will take action against the chapters."
He was unsure what type of disciplinary action would be taken and said, "it's just a matter of what we find."
"We don't say what they can and can't do for recruitment events, but we're in the process of changing our standards and our bylaws of how events are run for the future so events like this are avoided," Groeschen said.
"Fraternities, when they're in their recruitment period, they want to get attention, they want people to notice them, and I don't think that they made the best choice when they made the decision to do those things," Mulkey said.
She said sanctions that may be imposed against the fraternities could vary from a warning to suspension, but the most important thing is to show both fraternities the error of their ways.
"We would like to see something educational happen as a result of this," she said.
"I don't think that [fraternity presidents] thought about the images Jell-O wrestling brings to mind. I think they thought it was fun way to roll around and get messy and have a good time," Mulkey added. "But they didn't realize that if you're doing Jell-O wrestling and a person doesn't see what they're doing, their mental image of that is very derogatory and it objectifies women in many instances."
"What we try to do is – not even during rush – is just to promote a good time on campus," Hayse said, "you're trying to do something to help the campus, to improve the atmosphere here, and then people think you're degrading to women. That's not even our intent. It's just to promote the campus a little bit more and keep people interested while they're here."
Hayse said that, despite student backlash against the activities, TKE plans to continue hosting annual "safe sex parties."
He said that in the future the parties will be better organized and he hopes to make it a campus-wide, not just fraternity, event.
"We're going to continue to do this, we're just going to make it bigger," he said. "We're not letting this hurt us."