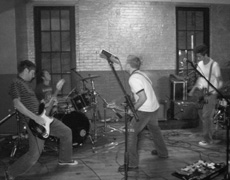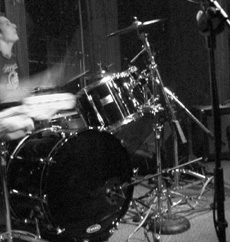 Holding a box of DayQuil in his hands, Josh Purnell turns around and deadpans, "You know, today's my birthday."
His three companions look astonished for a brief moment-this is news to them. Andy Crawford quickly pipes up.
"It's your birthday?"
The four members of AndAndy are relaxing in their room at the Westin Hotel in downtown Cincinnati. Purnell, the lead vocalist/guitarist, is nursing a cold on his 23rd birthday.
He debates whether or not to stick with DayQuil or try Claritin for the first time. He's feeling well, but sounds a bit stuffy.
Crawford, who used to work in a hospital pharmacy, inspects both boxes and explains what the active drugs in each product do. Meanwhile, guitarist Josh Duncan is lounging on one of the two queen-sized beds, and bassist Rob Warnick is sitting in a chair near the window.
The band still has three hours until they take the upstairs stage at the Cavern. They have an 11 p.m. slot, at the MidPoint Music Festival showcase following a Columbus band called Blatant Finger and before Knoxville's American Plague.
Tonight, they're providing the backline for all the bands (drum kit, bass and guitar amps), so they have to set up early and stay late to tear their stuff down. Purnell decides to stick with DayQuil.
AndAndy, like so many bands before them, started with a bunch of friends with similar musical tastes getting together and jamming.
It was the fall of 2001 and none of the four actually sung, presenting a small flaw in the plan.
Placing search ads in the newspaper proved unsuccessful, so Purnell stepped up to the mic one night just to fool around. Despite being a "reluctant singer," he was the best candidate under their noses all along.
Warnick coined the name during a party at UK one night and in spite of Crawford's protests, AndAndy was born.
Unlike other bands, the four do not dream of being cash money millionaires.
In fact, they're humble in that they think it would be "a good time" to be huge rock stars, but they'd rather focus on being independently signed and release an album in the next year.
Purnell and Crawford are both communications majors at Northern as well as rock stars.
Aspiring to take a slower, independent approach to their music, maintaining that their ultimate goal is to "play music and have a blast doing it."
"It would not be fun to be a cog in that nasty money machine," says Purnell regarding a major record deal.
"Overall, its the thrill of playing music live is what keeps us going," says Crawford. "The rush you get on stage when everything falls in place is amazing."
It's been just over a year since the band debuted at the York Street Caf